ArtAfrica Miami Arts Fair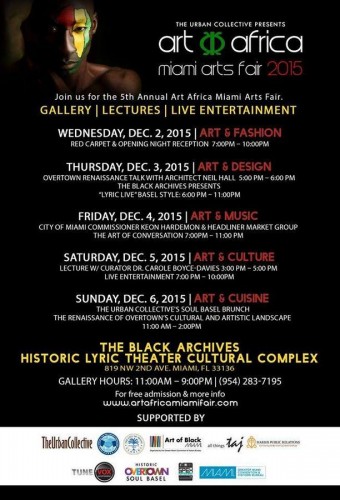 Art & Fashion VIP Opening, Wednesday Dec. 2, 7pm to 10pm
Thursday Dec. 3 11am – 7pm
Friday Dec. 4, 11:00 AM – 7:00 PM
Saturday Dec. 5, 11:00 AM – 7:00 PM
Soul Basel Farewell Brunch powered by TheUrbanCollective, Sunday Dec. 6, 12:00 PM – 2:00 PM
The Carver Building
801 NW 3rd Avenue
Miami, FL
Website
Art Africa Miami Arts Fair is a juried multidisciplinary exhibition of fine contemporary art from the global African Diaspora. The central idea of Art Africa Miami is to present an array of visual works that pay homage to the centrality of Africa and its descendants contribution to the modern art world.
"Art has always been a tool to claim space, build power and to question the injustices that have shaped our social experiences," Neil Hall, Founder. In the world of art and culture, artists are responsible for offering the viewer a chance to challenge society by bringing new meaning to the way we perceive the world.
Culture is space where we can introduce ideas, attack emotions, change values and find inspiration. Art is where we can imagine what change looks and feels like. Come join us as we seek to do our part in transforming our world to be more just and beautiful in all we do. This year, we continue our transformation of the historic community of Overtown.
Our aim is to continue advancing artists from the African Diaspora, including artists from Africa, North America, South America, the Caribbean, and Europe. Art Africa Miami brings a vital and essential cultural service to the South Florida community, lending the Magic City a true international flair.
​