TD Bank Presents the 2015 Miami Broward, Jr. Carnival
Sunday, October 4, 2015, 1:00pm – 8:00pm (Parade starts at 2 p.m.)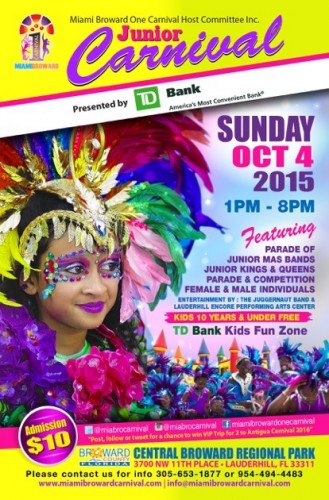 Central Broward Regional Park
3700 NW 11th Place
Lauderhill, FL 33311
Admission: Parking fee-$1.50 per adult
Adults-$10 admission
Kids 10 years old and under are FREE.
Official Website
Twitter, Instagram, Facebook
Miami Broward One Carnival Host Committee Inc. presents Junior Carnival Parade of Jr. Mas Bands, Junior Kings & Queens, Female and Male Individuals Parade & Competitions. Young masqueraders will compete based on their creativity, presentation and craftsmanship in their vibrant and colorful masquerade costumes celebrating Caribbean culture. Performances by: The Juggernaut Band and Lauderhill Encore Performing Arts Center and the 2014 Steelband Panorama winners Pantastik and 2013 winner Silver Stars.
South Florida's youth will have an opportunity to proudly show off they're wonderfully created and colorful costumes in celebration of their rich Caribbean culture this carnival season. Over 350 young children will participate in the Miami Broward, Jr. Carnival parade and competition on Sunday, October 4, 2015 at Central Broward Park (3700 NW 11th Place, Lauderhill, FL 33311). Gates open at 12:30 p.m. and the parade begins at 2 p.m. Parking fee is $1.50 per adult and admission into the event is $10. Kids under 10 years old are free.
This annual Caribbean inspired family event fosters artistic development and creative freedom, all while inspiring young people to take up the torch of Carnival tradition and carry it high. Young masqueraders will be judged based on their creativity, presentation, originality and craftsmanship of their vibrant and colorful masquerade costumes.
"We are looking forward to a safe and successful Junior Carnival this year as we continue to promote and sustain the culture of the Caribbean people," says Rose Kelly, Bandleader of Heritage TnT, Jr. Carnival band. "The youths are the future of our Carnival, so we hope to bring more awareness of our culture to them."
The event encourages young Caribbean-Americans to embrace and celebrate their Caribbean culture by participating in an age-old island tradition. Miami Broward Jr. Carnival is also one of the symbols of diversity and inclusion as there are non-Caribbean children of various backgrounds that also participate in the parade and festivities.
"Although we are second and third generation West Indians, this is our culture. Its longevity depends on the positive inclusion of the children. They are the ones who will carry the torch and ensure that our Carnival never dies," says Giselle d 'Wassi One, Bandleader for Wassi Babes Jr. Carnival.
Sponsors include;Chubby,Dr. Dominique Lewis,Julian Cameron,Pieter Hendrichus
This year Miami Broward Carnival is proud to be sponsored by America's Most Convenient Bank, TD Bank.
"TD Bank is thrilled to be a sponsor of this year's Miami Broward Carnival," said Andre Khan, V.P. and co-chair of the African American and Caribbean Leadership Employee Resource Group, TD Bank, America's Most Convenient Bank. "TD has built its success by embracing and celebrating the diversity of all customers, employees and community partners through local events like this one. At TD, diversity and inclusion are part of who we are and part of everything we do."
About TD Bank, America's Most Convenient Bank®
TD Bank, America's Most Convenient Bank, is one of the 10 largest banks in the US, providing more than 8 million customers with a full range of retail, small business and commercial banking products and services at approximately 1,300 convenient locations throughout the Northeast, Mid-Atlantic, Metro DC, the Carolinas and Florida. In addition, TD Bank and its subsidiaries offer customized private banking and wealth management services through TD Wealth®, and vehicle financing and dealer commercial services through TD Auto Finance. TD Bank is headquartered in Cherry Hill, NJ To learn more, visit www.tdbank.com. Find TD Bank on Facebook at www.facebook.com/TDBank and on Twitter at www.twitter.com/TDBank_US.
TD Bank, America's Most Convenient Bank, is a member of TD Bank Group and a subsidiary of The Toronto-Dominion Bank of Toronto, Canada, a top 10 financial services company in North America. The Toronto-Dominion Bank trades on the New York and Toronto stock exchanges under the ticker symbol "TD". To learn more, visit www.td.com.