The Fridge Fudge Pop
Thursday, December 3 Through Sunday, December 6, 2015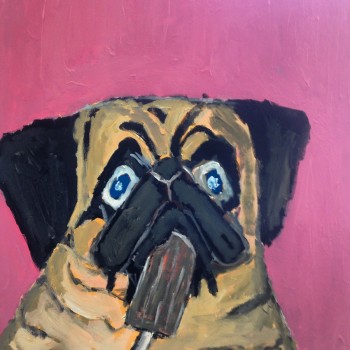 Holiday Inn-Miami Beach – Oceanfront
4333 Collins Avenue
Miami Beach, FL 33140
www.fridgeartfair.com.
Fridge Art Fair NYC and Fridge Art Fair Miami is pleased to announce its third Miami Edition: The Fridge Fudge Pop taking place in the heart of Miami's arts and culture center from Thursday, December 3 through Sunday, December 6, 2015. There will also be a Fudge Pop Pre-Party on Wednesday night, December 2nd. The location for Fridge Art Fair's Fridge Fudge Pop will coalesce in the "Grand Ballroom" of Miami Beach's "Grand Deco" district at the Holiday Inn-Miami Beach – Oceanfront.
Fridge Art Fair's third Miami edition has moved from its original location in the City of Miami and its Little Havana home to its new Miami Beach location, but Fridge has not forgotten its Miami Calle Ocho roots! The Fudge Pop Pre-Party will take place at The Historic Ball & Chain on Calle Ocho, beginning at 8:00pm in the heart of "Little Havana Central Station of Arte" where you can get a sneak peak of the landmarks of one of Miami's most influential and treasured neighborhoods. Entrance is free for Fridge Fudge Pop registered guests to join in the celebration of Fridge Art Fair's continued successes.
At Fridge Art Fair Miami, galleries, collectives, and artists are all equals in terms of their participation in The Fridge Fudge Pop! The fair is open to all and all are invited. Fridge Fudge Pop will host a VIP Preview of artists on Thursday, December 3rd from 4:00-7:00pm and will have open hours from 11:00am-9:00pm Friday until Sunday, December 6th. This year Fridge Fudge Pop welcomes back frequent Fridger, Johan Wahlstrom as well as second timer, Erin Ko who administered a psychedelic trip via a smartphone app to viewers at Fridge New York 2015, among many other innovative artists. Founder, Eric Ginsburg, is also teaming up once again with Brooklyn Animal Rescue Coalition (BARC) to benefit the pooches-and other furry friends-he loves to paint.
Fridge Art Fair Miami will be held at the Holiday Inn, Miami Beach, located directly across from the Fontainebleau Hotel and N.A.D.A. A wide range of booth choices and art fair floor plans will be made available.
Fridge Art Fair –
Fridge Art Fair was born in 2013 on New York's Lower East Side. The inaugural Fair was filled to capacity with exhibitors who answered Founder Eric Ginsburg's challenge, "Can you fit into the Fridge?" at Kazuko Miyamoto's small but storied storefront, Gallery OneTwentyEight. The Fair has gathered a growing following of exhibitors, sponsors and visitors through two more New York editions, as well as two previous Miami fairs in 2013 and 2014. So far, each Fridge Art Fair has coincided with Frieze New York in May and Art Basel Miami in December.
Fridge Art Fair is the boutique, soft sell, dog-friendly satellite fair dubbed as, "The baby who has refused to obey orders to stand outside the door while the adults confabulate inside," by Artinfo.
Fridge Art Fair Founder and Artist Eric Ginsburg, known for the uniquely soulful and painterly qualities of his portraits, Eric credits Sol LeWill as a patron and friend who commissioned works, as well as a mentor, and, along with Eric's "pen pal" William Wegman, as "kind of a hero."
Ginsburg studied with Maureen Gallace at NYU and received his MFA from Columbia University in 2005. His works are found in public & private collections around the wold including: Herb & Dorothy Vogel (now in the permanent collection of the National Gallery of Art);Galerie Nieu Schoten (Ten Boom Museum, The Netherlands); the New Britain Museum of American Art; The Cartin Collection; Cindy Sherman; William Wegman; Lisa Spellman; and the Francis J. Greenburger Collection, Paula Cooper and the LeWitt Collection.
Sponsors –
This edition of Fridge Art Fair Miami is being sponsored by Ball & Chain, Barlington Group, Charles Group Hotels, Lose Style Events, Publix, and Holiday Inn returns as the Fair's premier sponsor after co-hosting Fridge New York 2015.
Links –
• Fridge Art Fair
• Fridge Facebook
• Fridge Twitter