AFP Workshop Making Your Cause Go Viral Lessons from the Masters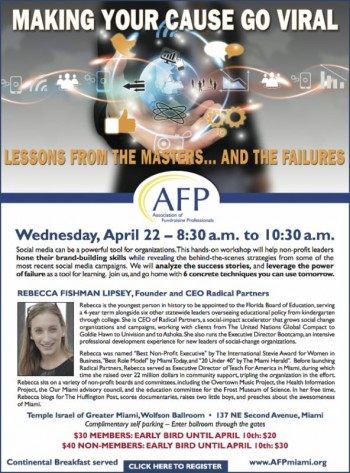 Wednesday April 22 8:30 – 10:30AM
Temple Israel, Wolfson Ballroom
137 NE 19th St
Miami, FL 33132
$30 Members – $20 Early Bird until April 10
$40 Public – $30 Early Bird until April 10
Register Online
Complimentary Parking in lot on south side of 19th Street
Enter ballroom through the gates
Is hiring a college intern your social media strategy? Did you know there are more people on Facebook than the combined populations of the United States, the British Commonwealth, and all the drivers caught on I-95? Do you still call this # (the character in red) a "number sign?" Have we got the "no miss" workshop for you!
Social media can be a powerful tool for organizations. This hands-on workshop will help non-profit leaders hone their brand-building skills while revealing the behind-the-scenes strategies from some of the most recent social media campaigns. Come learn with us, and go home with 6 concrete* techniques you can use tomorrow**.
Presented by Rebecca Fishman Lipsey, CEO, Radical Partners
Rebecca is the youngest person in history to be appointed to the Florida Board of Education, serving a 4-year term alongside six other statewide leaders overseeing educational policy from kindergarten through college. She is CEO of Radical Partners, a social-impact accelerator that grows social change organizations and campaigns, working with clients from The United Nations Global Compact and Goldie Hawn, to Univision and Ashoka. She also runs the Executive Director Bootcamp, an intensive professional development experience for new leaders of social-change organizations.
Rebecca was named "Best Non-Profit Executive" by The International Stevie Award for Women in Business, "Best Role Model" by Miami Today, and "20 Under 40″ by The Miami Herald". Before launching Radical Partners, Rebecca served as Executive Director of Teach For America in Miami, during which time she raised over 22 million dollars in community support, tripling the organization in the effort. Rebecca sits on a variety of non-profit boards and committees, including the Overtown Music Project, the Health Information Project, the Our Miami advisory council, and the education committee for the Frost Museum of Science.
In her free time, Rebecca blogs for The Huffington Post, scores documentaries, raises two little boys, and preaches about the awesomeness of Miami.