Red Bull Music Academy | Paris 2015 Info + Jam Session
Wednesday, February 25, 7PM-11PM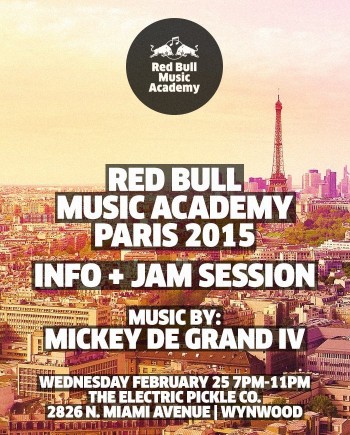 The Electric Pickle Co.
2826 N. Miami Avenue
Wynwood Miami, FL
This event is for ages 21+
Free & open to the public
Calling South Florida music makers, producers, vocalists, DJs and instrumentalists that want to learn about becoming involved with Red Bull Music Academy!
In 2014, 5 Miami-based artists were chosen to participate in Red Bull Music Academy programs, taking them to music workshops and festival events around the world.
At this info + jam session event, we will be joined by RBMA alumni Mickey DeGrande IV (Cosmic Chronic/RBMA Toyko 2014) and Jneiro Jarel (JJ DOOM/Dr. Who Dat/RBMA Capetown 2003), as well as RBMA ambassadors Diego Martinelli and Jsin Jimenez, all who will be on hand to talk about the programs available to potential academy applicants, answer questions and more.
Come have a drink, conversation and enjoy the music with us. This is a wonderful opportunity to learn more about RBMA as well as network other like minded people and music makers.
Music by:
Mickey DeGrand IV [Cosmic Chronic | RBMA Tokyo 2015]
Uchi