Life Is Art Block at Art Deco Weekend Festival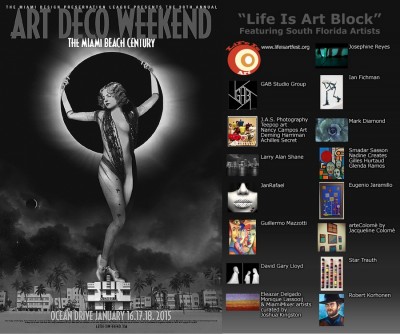 January 16, 17, 18, 2015
Ocean Drive
Miami Beach, FL 33139
Art Deco Weekend is Free and open to the public. All Art Deco Weekend events are free unless otherwise noted.
Full Schedule
Every year during Art Deco Weekend, Miami Design Preservation League closes Ocean Drive to traffic. Over 140 vendors line Lummus Park and Ocean Drive displaying vintage and handmade paintings, photography, jewelry, sculptures, posters and more. Ocean Drive fills with street entertainment, classic cars and people. However, the main attraction is the Art Deco buildings sitting on the most famous street in South Florida
Life Is Art Block – The Local Artist Zone
Ocean Drive, 11th to 12th Street
Friday, 1/16: Noon – 11pm
Saturday, 1/17: 10am – 11pm
Sunday, 1/18: 10am – 8pm
Life Is Art is very excited to announce that The Miami Design Preservation League has invited us to host a local art show within their 38th Annual Art Deco Weekend! Life Is Art has an entire block of Ocean Drive, from 11th to 12th Street, filled with amazing artists from South Florida.
This year, Life Is Art is creating our very own "Locals Only Art Zone" within the Art Deco Weekend Festival called the Life Is Art Block! All of our artists will be gathered into one block in the middle of Ocean Drive, the Art Block featuring only local artists.
Exhibiting Artists include: David Gary Lloyd, JanRafael, Mark Diamond, J.A.S. Photography, Teepop art, Nancy Campos Art, Deming King Harriman, Achilles Secret, GAB Studio Art Group, Ian Fichman, Eugenio Jaramillo, Eleazar Delgado Studio, Guillermo Mazzotti, arteColomè by Jacqueline Colomè, Larry Alan Shane, Josephine Reyes, Star Trauth, Smadar Sasson, Nadine Creates, Gilles Hurtaud, Glenda Ramos, Robert Korhonen
A lively and entertaining menu of family friendly entertainment takes over Ocean Drive during Art Deco Weekend. Come see stilt walkers, magicians, dancers, strolling characters and more!
Events At The Promenade
The Promenade Bar "The Speakeasy" is generously sponsored by the The Original Miami Beach Antique Show! They will have some beautiful antiques for show and sale and information about their upcoming show.
12th Street & Ocean Drive on the sand
LIVE Jazz & Big Band Entertainment
Art Deco Weekend Fashion Show
Art Deco & Mid Century Furniture & Design Expo
Swingsomnia
Deco Dance-A-Thon
The Promenade is our cultural hub at Art Deco Weekend. Attendees will be able to dance to music from the 1920s, 30s & 40s as jazz musicians & big bands take the stage. Attendees will be able to see furniture and home accessories made in Art Deco decades. Models will take the stage and showcase clothing and accessories made or inspired by the Art Deco era. Finally, the ADW Film Series will feature films made in Miami Beach as we celebrate the "100 Years of Miami Beach!"
The Art Deco Weekend lectures are held in the Art Deco Museum at 1001 Ocean Drive, Miami Beach, Fl 33139.