Taste of the Nation South Florida Review & Photos

Photographs by Paula Echevarria
South Florida (the non-confederate flag waving part of our paradise state) has been elevated into a serious "Foodie" region. While we are still anxiously awaiting our first Michelin Star, we do possess exquisite food, sexy chefs and a deeply diverse restaurant scene with an eclectic compilation of stellar dishes.

If you were unfamiliar with how fantastic our restaurants truly are then Taste of the Nation South Florida was the event to acquaint yourself with Miami's finest. Almost 700  gastronomes showed up for this exquisite event held at the Loews Hotel. The lavish bash raised funds for Share Our Strength, an organization that aims to end childhood hunger in America. The irony of us stuffing our gluttonous faces to end hunger was not lost on us, but the event did raise almost $100K!!! With the exception of the renowned South Beach Wine and Food Fest, Taste of the Nation is the apex of culinary events in South Florida.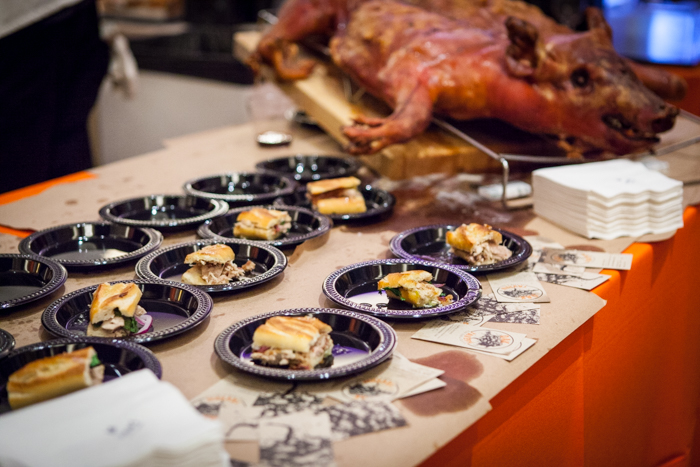 With over 60 vendors proffering their sensational dishes it's impossible not to fall in love with a new resto. A commodius grand ballroom was the regal setting, where it was very easy to meet or run into your favorite chefs, writers and food adorers. There were an endless abundance of truffles, oysters, Kobe, lobster, wine and liquor for the enjoyment of the blessed patrons. Since the Shedonist, needed a night off I was joined by Paula, the gifted and feisty Miami Editor of the ubiquitous Tasting Table. Together, we joyously sampled almost every offering until we needed maternity pants to stagger on. I will feature a ludicrously scrumptious seven dishes that induced the loudest and most sensual Foodie moans in us.
The Bazaar by Jose Andres unleashed some scrumptious science with an inventive and sublime spoon of Not your Everyday Caprese. Their magnificent version of this usually mundane dish took a peppered mozzarella purée and cooked it in freaking algae! The brilliant combination created a mozzarella that was soft and firm but profoundly juicy and saturated every iota of your mouth. They added pesto, basil, an air bread crouton and oven dried tomatoes. This little spoon made our eyes widen and then blissfully roll into the back of our heads. I easily had at least a dozen of these supernatural spoons.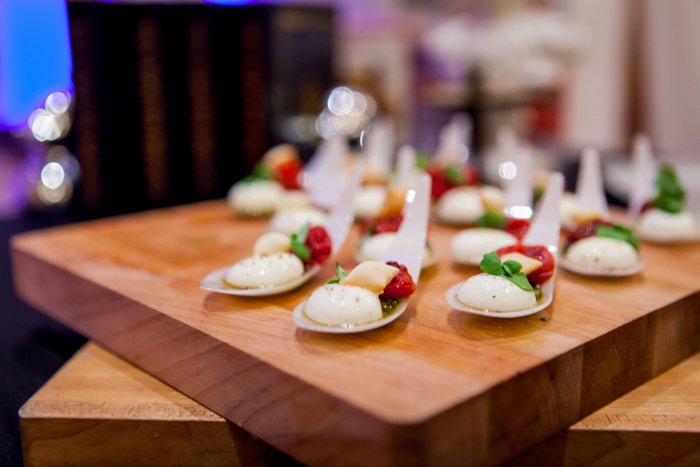 Shikany which probably crafts the most seductive looking dishes in Miami (though I have not been there yet to personally verify taste yet) succeeded in bringing the most exotic dish of the night. It's opulent concoction was an Arabic tea mousse with rose water jelly, candied fig, balsamic reduction and a raspberry meringue. The flavors were so diverse and yet intertwined together in a uniquely balanced fashion. We definitely will be checking out their full menu soon.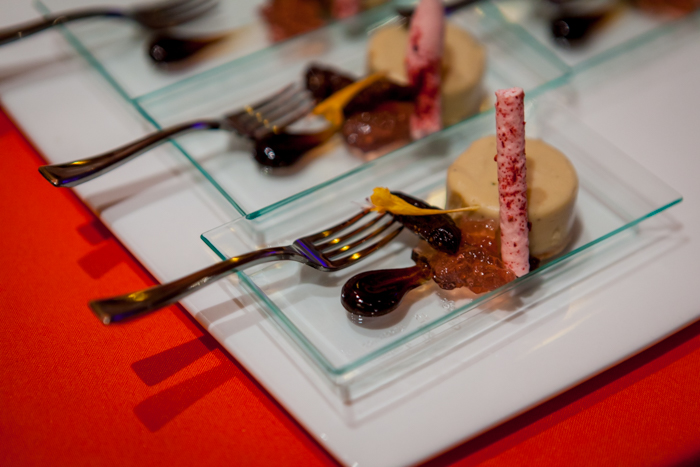 Occasionally, you will be fortunate enough to find a plate that is creative, delectable and a work of culinary art. Makoto's Pumpernickel air bread was one of these rare finds.  This thick yet buoyant pastry tasted nothing like pumpernickel and was coupled with a magnificent violet dijon sauce and a pickled scallion.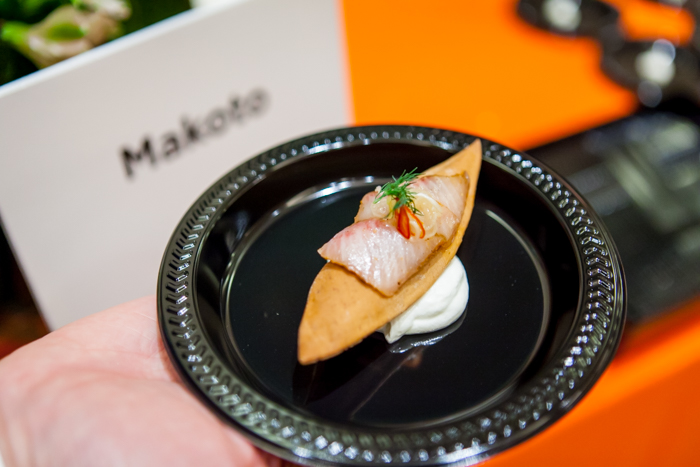 The always smiling Chef Kareem Anguin of The Oceanaire Seafood Room went contrarian and was slinging his succulent BBQ Short Ribs instead of a signature seafood dish. The meat was doused in a heavenly sauce that balanced sweetness with a slight zesty kick. It was my favorite meat dish of the night. You can read our review of the superb Oceanaire here.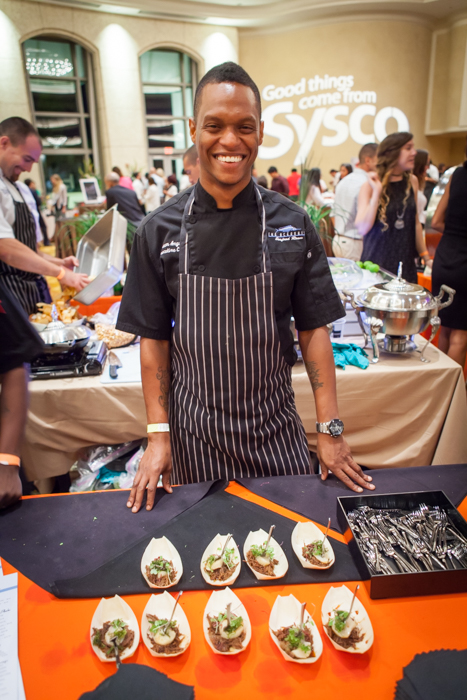 Chef Aaron Brooks of EDGE Steak & Bar fame is one of our favorite chefs in Miami. He dazzled us and our foodie friends with his Lobster and Shrimp Roll. The fresh crustaceans were served on a super soft Hawaiian roll that added just the right amount of sweetness to this incredible sandwich.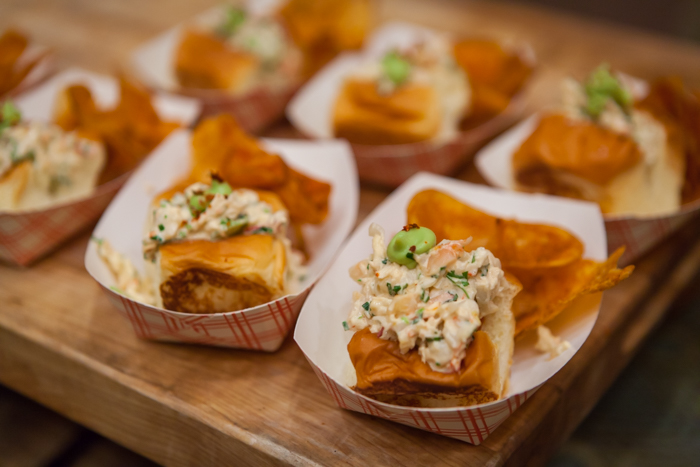 The artistically immersive R House offered up a seriously addictive Tuna Sashimi on a Wonton Crisp. I try not to have the same dish more than a couple times until I have sampled everything at least once, but I could not stop myself from pounding a handful of these straight out of the gate. The tuna was combined with avocado, sweet chili sauce and wasabi cream that swirled together into an extraordinary mini bite. The wonton chip elevated it into obsessive stature.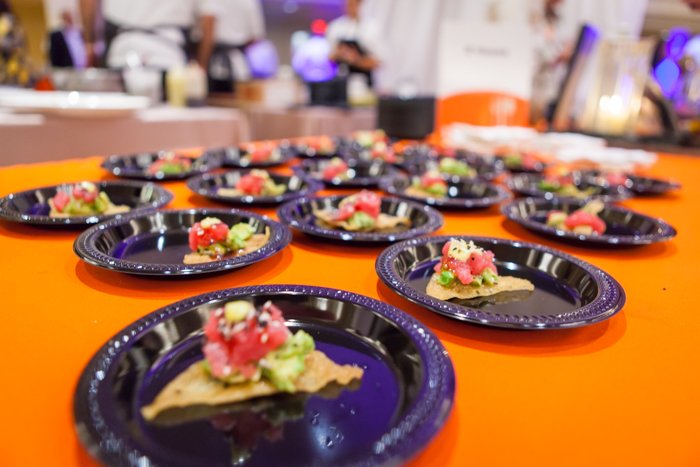 Khong River House served quite a treat for the hungry vegans with its Burmese Fresh Noodle Wraps. This marvelous dish is comprised of dried red chili, roasted peanuts, palm sugar and lemon juice mixed with chopped cilantro & culantro, wrapped in house-made Burmese-style noodles. It has enough heat to require a drink after but the sweet peanutty cilantro taste was awesome.  This dish had me thinking seriously about Veganism…  for a fleeting millisecond.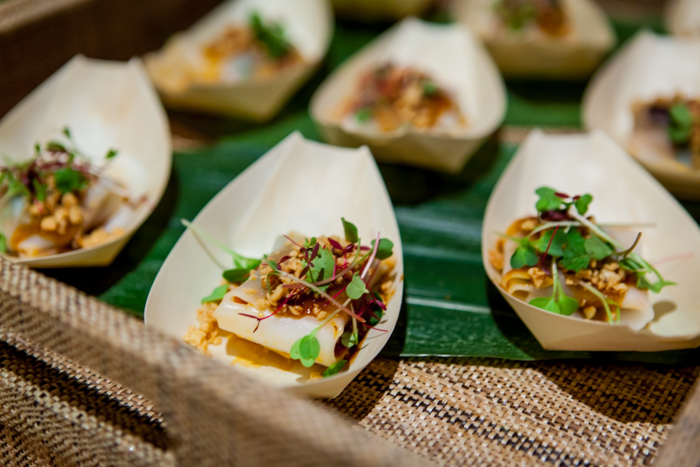 The Black and Bianco after party at Lure Fish Bar was sponsored by Tequila Casa Dragones Blanco. Tons of the participating chefs were there hobnobbing with us pedestrians in this gorgeous venue. There were designer desserts and Tequila inspired gourmet cocktails for those who could still fit anything into their protruding stomachs after the omnivorous 3-hour binge. Joshua Gripper from The Dutch created a resplendent dessert served inside a mini fish bowl that was almost too pretty to eat. J&G Grill had a massive dessert table with diverse confections as well.
Taste of the Nation was our favorite foodie event of the year thus far. Chef Susser and the Loews did a fabulous job bringing together South Florida's best restaurants serving up exquisite, sexy and creative dishes. If you did not make it this year, then you missed out on a sublime feast. Do yourself a favor and make sure not to miss it next year. 
Thank you for using Soul Of Miami!