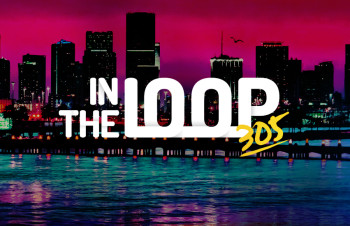 Here at In The Loop, we know there are always places to be and events to attend. Each Friday, we feature a special "where to be" post on our blog to make sure every day of the week has some sort of cultural event to check out. We hope that you all can come out into the community and learn and commemorate some influential people and events around Miami! Have something coming up that you'd like to see here? Tweet us @Loop305 using #WhereToBe hashtag!
Contemporary Art Projects USA Pop Up Gallery 6/6/14
Friday, June 6, 2014, 6:00pm-10:00pm
SeaFair Mega Yacht
100 Chopin Plaza
Miami, FL 33131
RSVP: info@contemporaryartprojectsusa.com
Cost: Free
Headquartered in Miami, Contemporary Art Projects, USA, is dedicated to nurturing new contemporary art by providing exhibition opportunities and resources for emerging artists and curators.
The Playground Party 6/7/14
Saturday, June 7, 2014, 5:00pm-9:00pm
Blackbird Ordinary
729 SW 1st Ave
Miami, Florida 33130
http://www.eventbrite.com/e/the-playground-party-tickets-11629154113
Cost: $15
Future Matters invites you to their first annual summer kick-off party! Party like you're 8 again with too much cake, face painting, games, prizes and more–minus the creepy clowns. And since we're not actually 8, free drinks are included!
Future Matters is a young professionals' organization founded to spread the word about Centro Mater, a 45-year-old nonprofit organization based in South Florida, that strives to aid economically disadvantaged families by providing quality childcare and education services.
Winn-Dixie's 'World Food Cup' Event 6/8/14
Sunday, June 8, 2014, 11:00am-3:00pm
Winn-Dixie Store #388
18300 S.W. 137th Ave
Miami, Florida 33177
https://www.winndixie.com/IS/Pages/WinAHomeViewingParty.aspx
Cost: Free
Winn-Dixie is teaming up with KRAFT, Coca-Cola and Mondelez the Official Snacks of US Soccer to invite futbol fanatics for an afternoon of fun during Winn-Dixie's 'World Food Cup' mini fan fests at participating Miami locations. Families are invited to enjoy soccer-inspired activities, including inflatable soccer goals, live entertainment, giveaways, product sampling and more.
Coral Gables Restaurant Week 6/9/14-6/29/14
Monday, June 9, 2014,12:00pm
Miracle Mile & Downtown Coral Gables
220 Miracle Mile
Coral Gables, Florida 33134
Cost: Free
http://coralgablesrestaurantweek.com/
Downtown Coral Gables is celebrating our 7th Annual Coral Gables Restaurant Week presented by Bacardi USA from June 9th-29th with exciting new restaurants and new unique events. This year, you have three whole weeks to taste your way through Coral Gables, giving you plenty of time to try new eateries and return to old favorites, all offering amazing prix-fixe menus at a discounted price.
Cutting-Edge Panel Discussion 6/10/14
Tuesday, June 10, 2014, 7:00pm-9:00pm
Patricia and Phillip Frost Museum of Science
3280 South Miami Avenue
Miami, Florida 33129
Cost: Free
Showcasing the importance of creativity and innovation in science, the Patricia and Phillip Frost Museum of Science (formerly Miami Science Museum) will host the complimentary Curious Vault Collaborations 001 Coral panel discussion. The discussion will focus on the inaugural Curious Vault Collaborations exhibit – "Do Brain Corals Dream of Algal Symbionts?" – currently on display at the museum, and how the Curious Vault Collaborations project, a periodic exhibition and online cabinet of curiosities, puts a local artist and scientist together to create a tabletop display from their teamwork. The team must use at least one item from the museum's collection.
The Naked And Famous 6/11/14
Wednesday, June 11, 2014, 8:00pm
Grand Central
697 N Miami Ave
Miami, FL 33136
Cost: $20-$25
http://www.grandcentralmiami.com/158-the-naked-and-famous
We welcome THE NAKED AND FAMOUS back to Grand Central. The New Zealand indie electronic ensemble make driving, melodic pop with an '80s post-punk influence.
ESPN Deportes | 2014 FIFA World Cup Cultural Experience 6/12/14
Thursday, June 12, 2014, 3:00pm-6:30pm
Coral Gables Museum
285 Aragon Ave
Coral Gables, Florida 33134
Cost: Free
https://www.soulofmiami.org/tag/61214/
ESPN Deportes Invites You to a Complete 2014 FIFA World Cup Cultural Experience At the Coral Gables Museum
ESPN Deportes will convert the Coral Gables Museum, in the heart of the City Beautiful, into the best, most unique and complete soccer viewing experience for the 2014 FIFA World Cup anticipated matchup between Brazil and Mexico