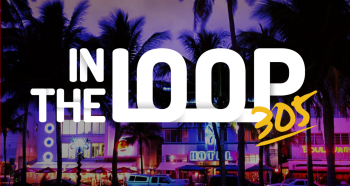 Here at In The Loop, we know there are always places to be and events to attend. Each Friday, we feature a special "where to be" post on our blog to make sure every day of the week has some sort of cultural event to check out. We hope that you all can come out into the community and learn and commemorate some influential people and events around Miami! Have something coming up that you'd like to see here? Tweet us @Loop305 using #WhereToBe hashtag!
I Am Miami In Action by Activating Public Spaces 5/30/14
Friday, May 30, 2014, 11:00am-7:00pm
Stephen P Clark Government Center Park
150 NW 1st Street,
Miami, Florida 33130
Cost: Free
Join us for an activity packed day where you can connect with others, learn about ways to improve Miami, and enjoy a splendid downtown park.
SUNSHINE BOULEVARD 5/31/14
Saturday, May 31, 2014, 8:00pm-12:30am
LMNT
59 NW 36th St
Miami, FL 33127
General Admission $20 & limited offer tickets $10
http://www.eventbrite.com/e/sunshine-boulevard-tickets-11534234205?aff=mcivte
Sunshine Boulevard, a networking event and fashion brand launch is a collaboration of emerging talent in the city of Miami. Join them as they travel back in time to their Miami roots with a night of Music, Fashion, Art and Cocktails.
Average Joe Art Sale, Summer's Here edition 6/1/14
Sunday, June 1, 2014, 3:00pm-8:00pm
Yo Space
294 NE 62nd St,
Miami, Florida 33138
Cost: Free
The whole idea behind these Average Joe sales was to make it possible for everyday people to be able to support their local artists by presenting art work in a laid back environment at affordable prices. This month they have a new featured installation created by one of their favorite visiting artists, Danny Ferrer, so make sure you stop by to check that out. Come support some talented local artists, or just come for the ping pong, old school video games, and good conversation; either way you're bound to have a nice, fun, relaxing day.
Miami Marlins vs. Tampa Bay Rays 6/2/14
Monday, June 2, 2014, 7:10pm
501 Marlins Way
Miami, FL 33125
Peru Gourmet 2014 6/3/14
Tuesday, June 3rd 2014, 6:00pm to 9:00pm
Rusty Pelican
3201 Rickenbacker Causeway
Key Biscayne, FL 33149
$60 per Person, Includes All drinks & Food Tasting, Valet Parking $6
The Peruvian American Chamber of Commerce is proud to invite everyone to the 2014 Peru Gourmet
Fabulous Miami Multichamber of Commerce Event 6/4/14
Wednesday, June 4th 2014, 6:30pm-9:00pm
La Gazzeta
1010 South Miami Ave.
Miami Fl 33130
Members $10 in advance and $20 at the door cash only Non-members $15 in advance and $25 at the door cash only
rsvp@fabulousmiami.com by Monday, June 2nd 2014
Mix and mingle with local professionals, promote your business, share your ideas, expand your network and have fun!
Fort Lauderdale Magazine June Issue Release Party 6/5/14
Thursday, June 5, 2014, 7:00pm-9:00pm
Casablanca Cafe'
Piano Bar & Restaurant
3049 Alhambra St
Fort Lauderdale, FL 33304
Cost: Free
Enjoy live entertainment, passed appetizers and your first cocktail with our compliments.