2nd Annual Hess Select South Beach Seafood Festival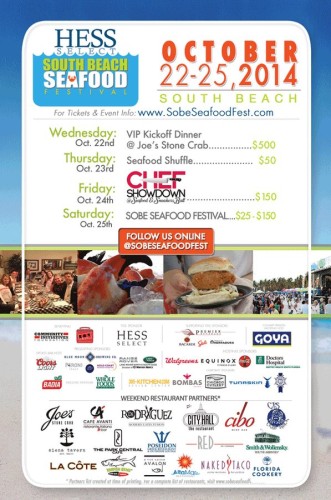 Saturday, October 25, 2014 from 1:00PM to 9:00 PM
7th Street & Ocean Dr.
Miami Beach, FL 33139
Buy Tickets
Festival General Admission tickets: $25
Seafood Lovers: $50
Premier All Access Pass: $150.
Follow us! Facebook: Hess Select South Beach Seafood Festival | Instagram: @SobeSeafoodFest | Twitter: @SobeSeafoodFest use HASHTAG: #SobeSeafood
Crack Open Your Fall with the 2nd Annual Hess Select South Beach Seafood Festival, taking place on Saturday, October 25, 2014 from 1:00PM to 9:00 PM. The event will feature a delightful mix of the very best of what South Florida has to offer event goers in the areas of entertainment, wine & spirits, and culinary scene all to support the Community Initiatives Foundation and their new EAT SMART Campaign.
The CI Management team has worked diligently to create an experience not to be forgotten and most definitely will not disappoint, as they provide South Florida locals and visiting "foodies" an opportunity to enjoy signature seafood from multiple premier local restaurants.
After such a positive response to the Inaugural Hess Select South Beach Seafood Festival last year, the expectations have been set at a high standard. Knowing this, CI Management is pleased to make the announcement that this year's mouth-watering participating restaurants featuring mini café's on the sand at Saturday's Festival include, but are not limited to: A Fish Called Avalon, Café Avanti, CIBO, City Hall the Restaurant, CJ's Crab Shack, Joe's Stone Crabs, Naked Taco, Park Central, Poseidon Greek Restaurant & Outdoor Lounge, Red Steakhouse, Tarpon Bend, Smith & Wollensky
Over 6,500 seafood-lovers supported the newest culinary event of the year, now considered one of Miami's annual "do not miss" festivals. Guests agreed after attending last year that the perfect equation was created, one comprised of the beautiful ocean, amazing food and lots of great activities to partake in. The festivities will return again this year with some great new satellite event additions throughout the festival week to please even the most discerning of tastes. Be sure to check out ticket information for the VIP Kickoff Dinner at Joe's Stone Crabs Wednesday Night, Thursday's Seafood Shuffle down Ocean Drive, and the Friday, October 24 "Chef Showdown" at the Seafood & Sneakers Ball hosted in the Goya Culinary Pavilion. Participating chefs and restaurants for the Chef Showdown will be announced shortly.
The Hess Select South Beach Seafood Festival will again draw local and visiting foodies, celebrities, and VIPs with a dynamic week of events commencing on Wednesday October 23rd. With this year's acclaimed Saturday participating restaurants now announced, The Hess Select South Beach Seafood Festival guarantees to be a true Miami-style event as guests can expect entertainment by some of the most popular live bands to include Spam All-Stars, cooking and mixology demonstrations, retail activations, multiple full bars that will feature a variety of wines from entitlement partner, HESS SELECT, cocktails by local mixologists featuring:  Bacardi, Stoli, Tequila Herradura, and Gold Coast Beverages beer, to include Blue Moon, Peroni, Crispin Cider, and Coors Light. Confirmed sponsors to date also include: Premier Beverage, Goya, featuring a new on-site Goya Culinary Pavilion for Premier All Access Pass holders, Warren Henry Automotive Group, Range Rover, Equinox, Coca-Cola, Badia, Doctors Hospital, Walgreens, Arquitectonica, Flowers Baking Co., Metro Signs, Le Cordon Bleu, 50 State Security, US Army, and SFM Services Inc.
The Hess Select South Beach Seafood Festival invites you to come out with friends and enjoy this year's event. Don't forget, you can bring the kids too as Goya hosts the "little chefs" in the Goya Kids Zone for a great day of family fun!