A Fun and Hilarious Tour
By Ari Kane, Photographs by Daniella Veras
We have been on loads of tours. Some awesome, some shitty and some even dangerous. The Taste of Tuscany Wine Tour from Italy on a Budget Tours was our best ever and we highly recommend and even demand that you get on it. The combination of fun, hilarity, education, activities and value for your Euro makes this tour a MUST do while in Florence.
Italy on a Budget Tourswas created to allow young (hopefully old too) backpackers the ability to tour Italy without breaking the bank. They offer day trips, cooking classes, bike tours, pub crawls and food tours among many others. The Taste of Tuscany Wine Tour bounces its patrons in a Mercedes van around Siena, the Chianti wine region, Monteriggioni, and ends with a jovial dinner on a farm in Poggibonsi.
The tour guide and company owner was a hilarious and spunky Italian named Irene. She was cracking up our group the entire trip with her witty naughty humor, stories and improv. She gave us our own Italian names and was by far the best guide we have ever had. Her adorable British accent (she will erroneously claim she doesn't have one) made the trip extra enjoyable.  Our crew was a lively and lovely group of cheeky Anglo Saxons that spanned across the States, Wales (look it up) and West Australia. We had a cool honeymooning couple as well as 3 sisters from Spain on a bachelorette party.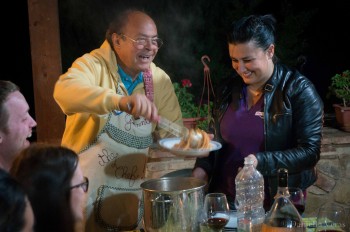 The first stop was a winery located in the fertile Chianti Classico region amongst legitimate breathtaking scenery. The spot was called Casa Sola, a beautiful private winery that dates back to the year 1000! The house was covered in artistic vines overlooking precious beckoning grape vines. The owner Maria walked us through the entire olive oil & wine making processes. It was quite fascinating to learn the intricacies of both.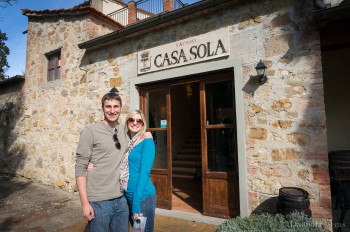 They are a medium sized estate that produces 130,000-160,000 bottles a year. One very interesting take away is that the small French oak barrels that are the best to age special wine in cost 1,000 euros for just one barrel. Maria outlined the proper way to gauge the quality of a wine through smell, observation and taste. Uniform color is an indication of high quality. We sampled the Chianti Classico and the Special Reserve and we could really taste the difference. The reserve was simply sublime, rich and smooth with a magnificent long finish.
The second city we visited was Monteriggioni, a pristinely preserved medieval town with a resounding population of 40. The movie "Gladiator" was filmed in this historic lil town and its nickname is the "Crown of Italy". It was a strategic town in the incessant historic wars between Siena and Florence. It was a cute historic town with fortress walls to traverse and gorgeous radiant green fields to gaze upon. Unfortunately there was not a station set up to sword fight, joust or shoot bows and arrows but we are going to get in touch with the Mayor/Earl/Duke of Gladiatorville to see if we can change that.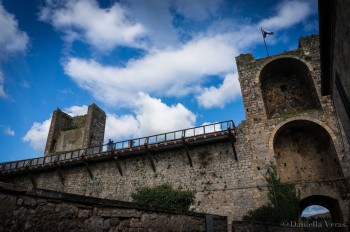 The amazing town of Siena was our third stop on this festive expedition.  We visited the major sites like the ostentatiously magnificent Siena Cathedral as well as the Il Campo Square where a famous makeshift horse race is held every year.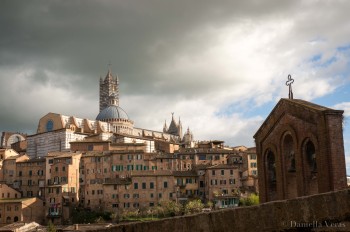 Our final stop on this magical excursion was Giovanni's old school Tuscan farm in Poggibonsi, Irene's hometown. Giovanni is such a sweet and funny old man. He does not speak a word of English but is soooo endearing and intent on making you eat and drink as much as Italianly possible. His food was solid and we had a hilarious dinner with loads of wine induced inappropriate talk galore.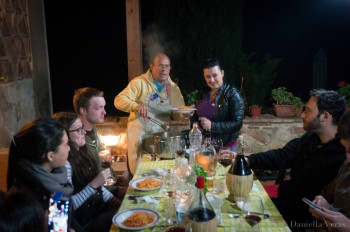 We deemed it proper, since most Americans feel entitled to deem things, that the bachelorette needed a celebratory lap dance.  We kept urging our new friend the shy Welshman Matteo to oblige but he was a little too timid to give the Espana bride a well-deserved lap dance. We guess the Welsh will only give lap dances to their sexy sheep. The Hedonist ended up having to step up to the live female pole and grind on her until she could not breathe from laughter. The whole crew was signing, drinking, laughing and dancing like we had been friends forever. It was truly a very special dinner and trip. On the ride home after dinner DJ Irene was spinning tracks that had the whole van literally jumping, dancing and twerking onboard.
The tour was nothing short of superb. Irene was the best tour guide we have ever had and we have been touring to over two dozen countries. Next time you are in Florence make sure you visit Italy on a Budget Tours and let Irene literally rock your Italian world!