Legends Ball, Celebrating Pride In The Arts
Wednesday, April 9, 7:00pm
Jackie Gleason Rehearsal Hall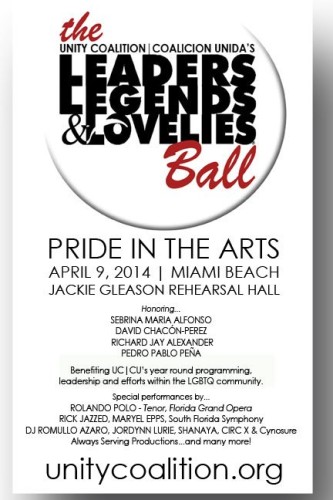 1700 Washington Ave
Miami Beach, FL 33139
Tickets: $100
More Info & Tickets
Unity Coalition|Coalicion Unida's annual fundraiser event, benefiting LGBT Scholarships & year round programming.
Premium Open Bar, Amazing hors d'oeuvres, Live music, Dance and Theatre, Fashion and Fabulousness
The heyday of live theatre, performances & movies at the Miami, Carib, Lincoln, Las Mascaras and many more are long gone in South Florida. Others like the Coconut Grove, Olympia and even Jackie Gleason have unsure futures ahead of them. Many of the marquees now promote retailers, restaurants, for lease…or simply are gone. The Famous, once a thriving restaurant in the 40's on Washington Avenue with female impersonators serving, singing & dancing – gone. Lucky Cheng's, Mulberry St. & the Candlelight – all gone. So what happened to the glitz and glamour of South Florida's performance spaces? Where did all the talent go? Did we run out of gays to direct, dress, powder & paint? Are the rainbow lights in South Florida dimmed forever?
Don't count us out just yet.
South Florida is thriving with LGBTQ talent, venues and creative minds to fill any stage offered to it, and Unity Coalition|Coalicion Unida's Leaders, Legends & Lovelies (LL&L) Series is celebrating them all this April. With a theme of PRIDE in the ARTS, the annual Exhibit, Lectures & Legends Ball – complimenting Miami Beach Gay Pride festivities, highlights the good and positive in our LGBTQ community.
Partnering once again with the Miami Design Preservation League, the LL&L exhibit & lectures on theatre, costume & design will be held this coming April 12 & 13, 2014 at the Art Deco Welcome Center – free & open to the public. A myriad of talents, genres and styles will be explored and presented at the Leaders, Legends & Lovelies Exhibit, Lectures and Legends Ball. This year we are proud to partner with the Anita Priest Whispering Angels Foundation to offer an LGBTQ Scholarship in the Arts, Design & Education. The 2014 recipient will be announced at the Legends Ball on April 9th.
Celebrating the good, positive & outstanding within our LGBT community, the Unity Coalition|Coalición Unida (UC|CU) LEADERS, LEGENDS & LOVELIES Lectures, Exhibits & Legends Ball strive to focus on just that – Bringing lecturers from all walks of life in the LGBTQ & friends of community, the events focus on the similarities rather than the differences we all share, and how we can inspire others to do good, excel, be proud of who they are & just be better people. Our work is 100% funded by events & private donations, and we are 100% staffed & managed by volunteers. Everything that comes in, goes right back out for programming, leading & assisting our LGBTQ community.