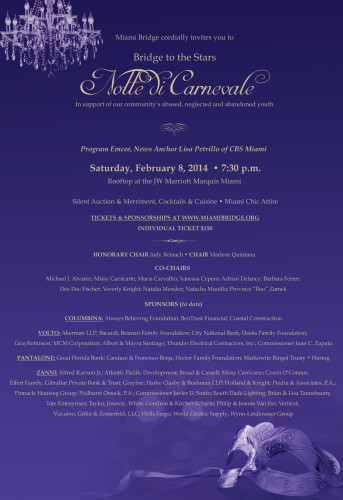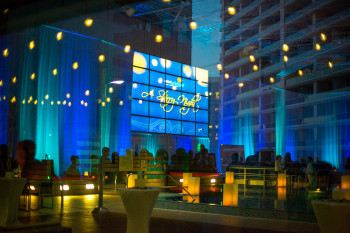 "Carnival of Venice" Fundraiser Gala to Help Hundreds of Homeless and Abused Children and Teenagers
Highly anticipated "Notte di Carnevale" event will benefit programs and outreach by Miami Bridge Youth & Family Services, Inc.
 
The enchantment and mystery of the masquerades and merriment of Venice, Italy will serve as the backdrop for an important fundraiser in support of South Florida's abused, neglected and abandoned youth.
Miami Bridge Youth & Family Services, Inc., Miami-Dade County's only 24-hour emergency shelter for children and teenagers in crisis ages 10 to 17, is proud to announce the countdown to its signature fundraiser, Bridge to the Stars, "Notte di Carnevale," with special program emcee Lisa Petrillo of CBS Miami.  Chaired by Marlene Quintana, Labor and Employment Shareholder at GrayRobinson, current top-tier sponsors of the event include Coastal Construction, BenTrust Financial and the Always Believing Foundation, spearheaded by Monique Mosley.
Taking place Saturday, February 8, at 7:30 p.m. on a rooftop terrace of the JW Marriott Marquis Miami hotel in downtown Miami (as well as the hotel's NBA-approved indoor basketball court), hundreds are expected to attend the special fundraiser, including prominent community activists, civic and judicial  leaders.  With an enchanting theme inspired by the centuries-old Italian Carnival of Venice, the gala, hailed as one of the most unique of the season, will help bolster the outreach of Miami Bridge, which provides critical services to youth in great need (many of whom are homeless or runaways and living on the streets).
"We are anticipating another great edition of this spirited event and appreciate all of the hard work and time that has gone into its production," said Mary Andrews, Executive Director, Miami Bridge Youth & Family Services, Inc.  "While it may be an evening of fun, it is even more important to note how significant this event has been and will continue to be, not only for Miami Bridge, but the hundreds of youth in crisis that we serve annually."
In addition to whimsical "carnival-inspired" entertainment — as well as live music and delectable cuisine — guests will be able to enjoy a silent auction filled with big-ticket items.  A single reservation is $150.  Attire is Miami Chic. For more information on how to attend or sponsor the event — or support the Miami Bridge organization — contact Monique Bain, 305.636.3520, mbain@miamibridge.org, 2810 NW South River Drive, Miami, FL, 33125, and visit www.miamibridge.org.
"In times like these, we are reminded of the generosity and spirit of so many that make an event like this one not only extremely special, but possible," added Andrews.  "We are grateful for the continued support of members of Miami Bridge.  Their dedication is a service to our organization, and, in turn, a great service to the community."
About Miami Bridge Youth and Family Services
For nearly 30 years, the Miami Bridge Youth and Family Services, Inc. not-for-profit organization has been operating out of Miami and Homestead, providing emergency shelter, food, counseling and family counseling for youth in need.  Acting as a catalyst for new beginnings, Miami Bridge works to rescue children and teens from lives of victimization and crime, and provides them with structure in a stable and nurturing environment.  Miami Bridge shelters more than 800 youth and counsels more than 550 families every year, providing them with solutions, alternatives and hope. For more information on Miami Bridge or to get involved, call 305-636-3520 or visitwww.miamibridge.org.