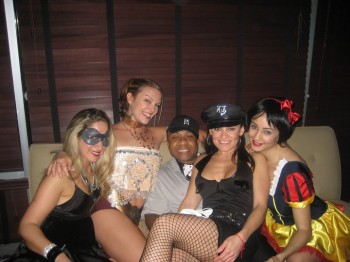 Bar 721
721 Lincoln Lane North
Miami Beach, FL
www.bar721.com
By Talmage Thornhill
Please bear with me while I get very excited. Bar 721 makes me unreasonably ecstatic. It is the best bar in Miami Beach, hands down. My enamorment with this establishment is fueled by several crucial factors I shall outline here.
Smoke free? Check!
Amazing happy hour? Check!
Friendly staff and clientele? Check!
Appealing, full liquor cocktail menu with exotic drinks? Check!
Comfortable couches? Clean venue? Nice Decor? Check, Check, Check!
WELCOMES MY DOG!?!?!?!? CHECK!!!!!
So while I calm myself down I'll also point out that while this is a gay friendly establishment, there has been a mixed crowd every time I've visited. It's large enough to feel spacious but small enough to be manageable and cozy. Music differs from night to night but at times they bring in DJs in the later evening hours. TVs are there and usually on if you would like to watch sports, but no food is served. Friendly staff usually allows you to bring in to-go stuff from local eateries, though.
721 is in the space that used to be the "Laundry Bar." Please do not let this scare you. There is not a hint of this venue's former self present any more. Everything has been gutted and it doesn't resemble the old dive at all. Cheers!
This is a shot of some friends and me celebrating Halloween 2010 at Bar 721, our favorite neighborhood hangout.