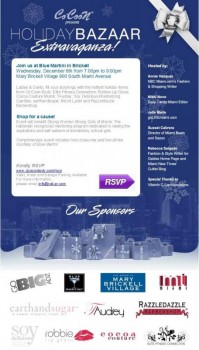 Fill Your Stockings At The Holiday Bazaar Extravaganza Presented By Co'coon Body
Wednesday, December 8th from 7:00pm to 9:00pm
Blue Martini in Mary Brickell Village, located at 900 S. Miami Ave.
Guests are asked to kindly RSVP at www.cocoonbody.com/rsvp
Get all your holiday shopping done with the help of Co'Coon Body
'Tis the season for chic shopping' at the Co'Coon Body (www.cocoonbody.com) Holiday Bazaar Extravaganza on Wednesday, December 8th from 7:00pm to 9:00pm at Blue Martini in Mary Brickell Village, located at 900 S. Miami Ave.
Avoid the long lines at the stores and get your holiday shopping done early. Enjoy discounts on the hottest holiday items from Co'Coon Body; Elite Fitness Connection; Robbie Lip Gloss; Cocoa Couture Miami; TAudrey; Soy Delicious Moisturizing Candles; earthandsugar; Razzledazzle Barbershop and Mizmi Label by Danittza Zimic. These participating vendors are ready to help guests choose from a variety of gift ideas.
Upon arriving at the Holiday Bazaar Extravaganza, guests will immediately discover that this section of Mary Brickell Village has magically been transformed into a Holiday setting. Models dressed in Co'Coon Body shapewear and extravagant Holiday costumes will welcome guests from a see through mobile truck the minute they step foot in Mary Brickell Village. Mobile truck sponsored by Go Big Adz.
Guests will be happy to know that they will be shopping for a cause. Proceeds from the evening's sales will benefit Strong Women Strong Girls of Miami, the nationally recognized mentoring program dedicated to raising the aspirations and self-esteem of elementary school girls.
This event is being hosted by Annie Vazquez, NBC Miami.com's fashion & shopping writer; Jeile Marie of goLIVEmiami.com; Susset Cabrera, Director of Miami Beats and Sazon; Rebecca Salgado, fashion & style writer for Gables Home Page and Miami New Times' Cultist Blog and Nikki Novo, Daily Candy Miami Editor.
The event is complimentary and includes hors d' oeuvres and two drinks courtesy of Blue Martini. Gentlemen will enjoy complimentary shoe shines provided by Razzledazzle Barbershop Brickell. Special thanks to our event partners: Mary Brickell Village, Blue Martini Brickell and Vitamin C Communications.
Valet, meter and garage parking is available.
About Co'Coon Body Co'Coon Body offers "true compression" shapewear designed to help women look and feel their best. Co'Coon has been a leader in the textile industry for over 18 years. They pride themselves in creating garments that are suitable for women from all walks of life. Co'Coon offers products specialized in balancing the body's energy, promoting weight loss and garments for post aesthetic surgery. We invite you to check out their great products at www.cocoonbody.com.
For more information on this event, please email info@nat-pr.com. For media inquiries, please contact Natalie Leon at Natalie.leon@nat-pr.com or call 786-537- 0751.