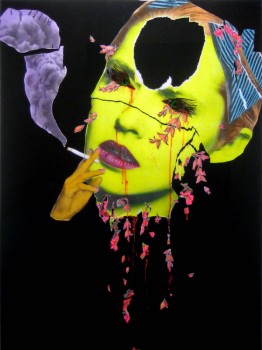 Urban Alchemists
Group Exhibition and Public Mural project
Wynwood Walls — 2516 NW Second Avenue, Miami FL
December 1—December 5, 2010, 12pm—7pm
Opening Event: Evening of Thursday, December 2, 2010
jonathanlevinegallery.com
Jonathan LeVine Gallery is proud to announce its program during Art Basel-Miami 2010, Urban Alchemists—a group exhibition and public mural project presented in association with Tony Goldman, art patron and leader in the restoration and transformation of declining historic districts into thriving cultural destinations. Curated by LeVine, Urban Alchemists will occupy a 2,200 square-foot space within Goldman Properties' Wynwood Walls—a project that began in 2009 as an open-air art park, which will expand its permanent exhibition this year with the addition of several new murals and museum-quality works of art. Located at 2516 NW 2nd Avenue, the show will run from December 1—December 5. Daily hours will be 12pm—7pm with an opening event on the evening of December 2, 2010.
Sharing Goldman's long-held belief that public artwork can have transformative, revitalizing powers upon communities such as the Wynwood district of Miami, LeVine is pleased to have this opportunity to contribute to the project. Urban Alchemists features a strong selection of works by ten highly celebrated and Internationally recognized artists coming out of the contemporary urban-folk and street art scenes including: AJ Fosik, Dan Witz, Doze Green, Invader, James Marshall (Dalek), Jeff Soto, Jim Houser, Judith Supine, Mario Martinez (Mars-1) and WK. In conjunction with having works in the show, Parisian artist Invader will create a mosaic mural on the façade of the exhibition space in his signature pixel-based style, and Californian artist Jeff Soto will paint a large-scale mural on an adjacent exterior wall.
Highlighting an assortment of captivating imagery, Urban Alchemists brings together a dynamic group of artists, many of which (in addition to their gallery installations) create commissioned murals and/or ephemeral work in public urban environments. Their connective thread is an aesthetic influenced by exposure to early generations of graffiti writers during their youth, and immersion into urban sub-cultures, which has informed their artwork in different ways. Sub-cultures of graffiti, skateboarding, hip-hop and punk were heavily related and extremely underground scenes in early years; comprised of subversive, non-conformist ideals. Whether driven by political activism or aesthetic improvement, graffiti and later forms of unauthorized art in public spaces address the ongoing discourse of freedom of expression, often in response to the increasing invasiveness of corporate advertising.
Graffiti of the 70s and 80s played a major role in pushing boundaries toward the development of today's street art scene and laid the foundation for what has now become a widespread global movement. To capture the energy of a public intervention in an urban environment and translate it into exhibition format is a challenging transition, since audience and mode of communication can shift the context of an image. As the artists in Urban Alchemists have grown individually, their artwork has evolved to a point of refinement. Similarly, as un-commissioned public art has risen in popularity, practice and appreciation around the world, it has achieved an expanded definition and broader scope than that of its graffiti-related origins.