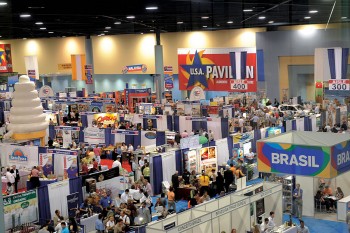 The 14th Americas Food & Beverage Show
6,300 Buyers From 63 Countries
Tuesday, October 26 and Wednesday, October 27, 2010
10AM – 5PM daily.
Miami Beach Convention Center (Hall C), 1901 Convention Center Drive, Miami Beach, 33139
Registration: Free until 9/15/10, register online.
The Americas Food & Beverage Show in Miami Beach, is the largest Americas-focused trade show in the hemisphere for the F&B industry. The Americas Food & Beverage Show features more than 300 exhibitors and 20 international pavilions. Discover the New Products Showcase where you can find the latest products in the US and in the Americas.
Organizers are expecting a minimum of 6,300 visitors from around the globe to attend, with qualified buyers and decision-makers across the full spectrum of food retailing, distribution, hospitality/culinary arts and food services. Fully 89% of show attendees either authorize or recommend purchasing decisions, making this an essential venue for companies wanting to showcase new products. The 14th Americas Food & Beverage Show is sponsored by the World Trade Center Miami with support from the USDA and FAS.
The World Trade Center Miami is a member of the World Trade Centers Association which is the preeminent global trade organization promoting two-way trade. There are 321 World Trade Centers located in 91 countries with a total membership of 2 million corporate members and associates. In the Western Hemisphere, there are more than 50 World Trade Centers either in operation or in the planning and/or construction stage.
The 14th Americas Food and Beverage Show will include approximately 300 exhibitors from the Americas and other parts of the world and 6,300+ buyers. Countries/regions such as Brazil, Canada, Colombia, Jamaica, Malaysia, Peru, Poland, South Korea and the USA will participate. The 14th Americas Food and Beverage Show is sponsored by American Airlines, the National Association of State Departments of Agriculture and the U.S. Department of Agriculture. For more information visit www.worldtrade.org or call 305-871-7910.