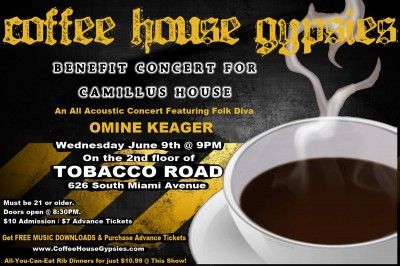 Concert for Camillus by The Coffee House Gypsies
On Wednesday, June 9, 2010 @ 9:00 PM the legendary TOBACCO ROAD will once again host a COFFEE HOUSE GYPSIES concert for a cause.
This time the focus is on South Florida's "Community In Need" and Camillus House.
The show will be an acoustic-themed performance featuring various special musical guests and an appearance by folk diva, Omine Keager.
The event takes place on the second floor at 626 South Miami Avenue in Miami, doors open at 8:30 PM.
All-you-can-eat BBQ rib dinners will be served for just $10.99.
Advanced tickets are $7 each and available from TIX@CoffeeHouseGypsies.com.
Admission at the door is $10. Must be 21 or older to attend.
Last December, at 11.8 percent, the Florida unemployment rate was the highest it had ever been since 1975: up 0.3 percent from November and a whopping 4.2 percent from December 2008. The Examiner referred to Miami-Dade as "one of the places most affected by the nation's economic downturn." Serving the South Florida community since 1960, Camillus House is a non-profit organization that provides humanitarian services to men, women and children who are poor and homeless. Camillus offers a full continuum of services that includes food, shelter, housing, rehabilitative treatment, and health care. Each service is carried out with the deeply held belief that every human being deserves love, respect and an opportunity to live a dignified life.
Active in Miami's live music scene since 1997 they have performed in New York City and all over South Florida. They were the only band to-date to win nine Status QuO South Florida Live Music Awards with nominations in ten categories. In 2009 South Florida's Sun Sentinnel called them "a band of nomads who keep moving to different musical genres" and The Miami Herald said "CHG's sound is reminiscent of The Eagles, Fleetwood Mac and The Mamas and the Papas," referring to them as "a quintessential jam band." Miami New Times said "Fans of Fleetwood Mac, the Mamas and the Papas, and 97.3 FM should dig this group without question. Their harmonies, both vocal and instrumental, are soothing and give a generally upbeat feel"
Band music, free downloads, and online videos are available at: www.CoffeeHouseGypsies.com
Camillus House is the largest and most comprehensive provider of humanitarian services to persons who are poor and homeless in South Florida. Established in 1960 to meet the needs of Cuban exiles, Camillus has grown from a small soup kitchen into a full service agency offering comprehensive services countywide. Today, Camillus serves more than 12,000 persons each year at 16 locations throughout the County, and each night, more than 1,100 persons rest safely under a Camillus roof. The services offered by Camillus House and sister agency, Camillus Health Concern, include housing, primary health care, behavioral health treatment, employment services, and basic emergency services such as food, clothing, shelter and companionship. Camillus's mission is to serve the hardest-to reach and poorest members of the community by giving them the hope and support they need to begin the long and often difficult transition to a new life and ultimate self-sufficiency.
Last year Camillus provided: 600,000 free meals. 4,700 patients quality health care through Camillus Health Concern. 110 persons substance abuse & mental health treatment (8 of every 10 successfully graduated). 280 persons successfully placed in gainful employment. A new Courtyard program which provided 740 street homeless men and women food, clothing, medical care, security services as well as pathways into housing, treatment and job placement to break the cycle.
For more information about Camillus visit: www.Camillus.org or email: SamGil@Camillus.org
Tobacco Road is Miami's oldest bar. It has survived hurricanes and prohibition and seen eras of presidents dating back to William Howard Taft. Throughout its 96+ year history, artists like George Clinton and Koko Taylor have made appearances at the local venue, turning it into 'the place where local legend and history meet live music'. Most recently Miami's Cuban singer and icon, Gloria Estefan, was seen celebrating her birthday at The Road. And the upstairs Cabaret (where the concert will take place) is rumored to have once been the favorite hangout of gangster Al Capone and his associates.
For more information about Tobacco Road please visit www.Tobacco-Road.com or call 305-374-1198.
Check donations for Camillus will be accepted at the CHG concert and should be made payable to CAMILLUS. Local companies wanting to make a corporate donation to Camillus can get show tickets for donating. For more information about donations for tickets please contact TIX@CoffeeHouseGypsies.com.
Tickets to this show are on sale now. For ticket information please contact TIX@CoffeeHouseGypsies.com