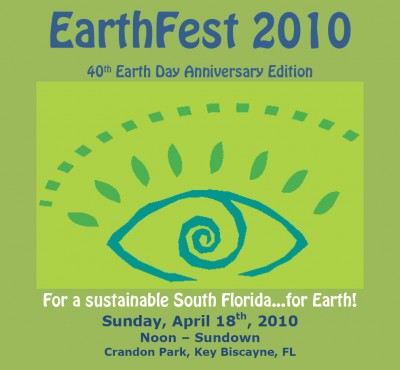 EarthFest 2010
40th Earth Day Anniversary Edition
EarthFest 2010!
Sunday, April 18th!
*Calling ALL beautiful people of the EARTH!*
Join us on April 18th for the LARGEST, most POWERFUL Earth Day celebration in South Florida !
~ Expand The Love ~ , in collaboration with Earth Learning and Miami-Dade County , PRESENT:
EarthFest 2010!
Sunday, April 18th
Crandon Park on Key Biscayne
12pm-8pm
RSVP and Invite Friends on Facebook
This is the 40th Earth Day Anniversary Celebration and the FOURTH Annual EarthFest!…a beautiful day for the whole family filled with live MUSIC, amazing WORKSHOPS for the mind, body, spirit and EARTH, sustainability, vendors, delicious vegetarian and vegan FOOD, CEREMONY, drumming, RAW FOOD demonstrations, NATURE walks, ART, and so much more!
*Experience powerful MUSIC, SPOKEN WORD AND CEREMONY by:
The Heavy Pets theheavypets.com
Teri Catlin tericatlin.com
Sosos myspace.com/sosos
PHIsonica phisonica.com
Xavier Hawk xavierhawk.net/
Kavayah Amn myspace.com/kavayah
Soulflower facebook.com/soulflower777
Jai/ Sol Temple soltemple.com
Drumming with Jude Papaloko jakmelartgallery.com papaloko4kids.wordpress.com
Earth Healing Ceremony by Lucho myspace.com/lcondor
*LINE-UP*
12:30–1:15pm Jai/ Sol Temple
1:30–1:45pm Soulflower
1:45–2:30pm PHIsonica with Xavier Hawk and Kavayah Amn
3–3:45pm Sosos
4–5pm Teri Catlin
5-5:30 Earth Healing Ceremony with Lucho
5:30-7pm The Heavy Pets
7-8pm Jude Papaloko drum circle
PLUS we will be spinning music composed just for Earthfest from DJ SPAM of Spam Allstars!
Bring your DRUMS and other instruments for our evening DRUM CIRCLE at 7pm!
*COME EARLY to Participate in Amazing Workshops all day, including:
In the * Soul Circle*
1-2pm Yoga w/ Green Monkey greenmonkey.net/
2-2:30 The Big Glow: Discovering the Light Within w/ Brian Piergrossi thebigglow.com
2:30-3 Dance/Movement Therapy w/ Michele Iemolo of URI uri-1.com
3-3:30 Deep Ecology/Connecting with the Earth w/ Val Silidker thevoiceoftheearth.com/about.htm
3:30-4 Sacred Sound Healing w/ Eric Dez ericdez.com and Randall Rodriguez singingbowlguru.com
4-4:30 Qigong w/ Jared Krupnick energeticqigong.com
4:30-5 Thai-Yoga Interactive Demonstration w/ Yoga Christy yogachristy.com
In the Earth Literacy Center :
1-2 Water, our needs & supplies by Lynn Hudgins of Nature's Natives
2-3 Taking Care of Garden Pests & Diseases Organically by Andres Mejides
3-3:30 Permaculture with Marcus Thomson permacultureguild.us
3:30-4 Growing a Food Forest in Your Backyard by Mario Yanez earth-learning.org/
4-5 Global Warming-Our Changes…Oceans
In the Whole Foods Activity Center:
2-3 and 4-5 Raw food preparation Sheryn Abalos
3-4 Tim Tye (Music)
PLUS: Nature Walks and Tram Tours running all day!
2-3 and 4-5 Every Child Outside by Christy Shultz and More!
Plus: Body Art by Keegan facebook.com/bodyartbykeegan and Luana Steffan queenluana.com
We will also have a healing tent set up with a variety of healing arts available: Thai massage, Acupuncture, Energy Work, Sound Healing and more!
EarthFest is a beautiful day of honoring EARTH, celebrating community, and strengthening our minds, bodies, and spirits for the transformation of ourselves and our world!
Come experience true sustainability and consciousness with Expand the Love, Earth Learning, and our entire South Florida Family!
$10 Suggested Donation
*with opportunities to win healing sessions and some fabulous earth-conscious GIFTS!*
*Bring: Concert blanket/portable chair, Re-usable water bottles (free refills provided), Drum / instrument for drum circle, yoga mat, Any electronics & computer equipment to recycle.
Join us as we celebrate Earth, the Greater Everglades, and a sustainable South Florida ! Each and every one of us has the power to bring about a more sustainable world through our everyday actions and personal choices. Together, let's transform our world!
*This is an Expand the Love and Earth Learning event!
*Hosted by Val Silidker, The Voice of the Earth thevoiceoftheearth.com
Sponsored by: Whole Foods Market :: DisneyNature's Oceans :: MDC Earth Ethics Institute :: Comm. Carlos A. Gimanez, Dist. 7 :: CBS Outdoor Advertising :: Friends of WLRN :: Miami New Times :: Natural Awakenings Magazine :: Edible South Florida Magazine :: Event Rhythm Management
Sound provided by Orange Blossom Jamboree orangeblossomjamboree.com
*If you are interested in being a sponsor, volunteering, or vending, contact us at Val@ExpandTheLove.com