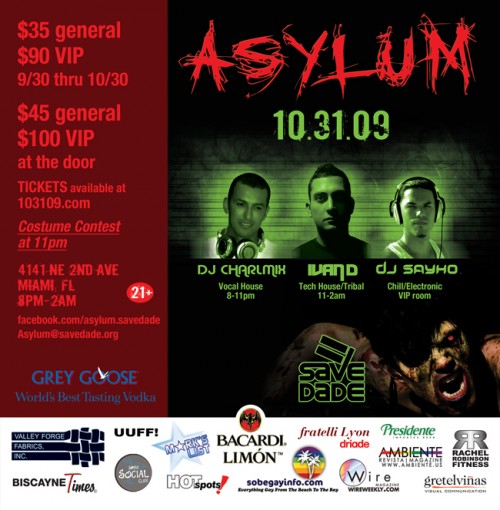 SAVE Dade dares you to enter the Asylum
Asylum SAVE Dade's largest and most spectacular Halloween event in its history.
SAVE Dade's most important fundraiser is re-imagined as Asylum for its 15th anniversary. "The concept was born out of the desire to incorporate the scary and eerie aspects that have become ubiquitous with Halloween, and the double meaning of the word "asylum" as a place of sanctuary," explains CJ Ortuño, SAVE Dade's executive director.
The high-octane event boasts a magnificent new location in the heart of Miami's Design District at the 4141 Building. With 12,000 square feet and two levels of industrial designed space, 40-ft ceilings and glass elevator towers that bolt towards large skylights creating a stark and dramatic visual image, the 4141 Building promises to be the premiere Halloween space for partygoers this year.
Part zombie infested insane asylum part dance club, Asylum promises to be like no other Halloween event in Miami.
The party's guests will be treated to state of the art light shows, macabre interactive performances, a costume contest, and the latest electronic/dance music spun by world class DJs. VIP guests will experience premiere treatment with access to an invitation only pre-event, complimentary valet parking, a VIP exclusive 2nd story dance floor, open bar, private "chill" lounge with catered gourmet food and separate DJ .
SAVE's annual Halloween fundraiser began as an intimate house party in Belle Meade, in 1995. Since then, it's grown year after year into an A-list event for South Florida's LGBT community.
As SAVE Dade's largest fundraising event of the year, all money raised at Asylum will fuel SAVE's efforts in fighting for LGBT equality. Since 1993, SAVE has continued to protect lesbian, gay, bisexual and transgender individuals from discrimination, and it has been thanks to the great collaboration of members, volunteers, donors and sponsors at such fundraising events like Asylum, that SAVE Dade's momentum keeps going strong.
"We hope that Asylum will help us consolidate the reputation and recognition that our annual Halloween fundraiser has earned throughout these fifteen years as the best Halloween party in South Florida. In the future, instead of saying 'I'm going to SAVE Dade's Halloween party', people will say 'I'm going to Asylum', concludes CJ Ortuño, "and everyone will know what that means and want to be there."
Asylum is October 31st from 8 p.m. to 2am at 4141 NE 2nd Ave, Miami, FL
Tickets are now on sale at $35 general admission and $90 VIP through October 30th. Prices at the door will be $45 for general and $100 VIP. Free preferred valet parking for VIPs is only available if VIP tickets are bought on or before October 30th and also only available with a two ticket purchase. To purchase tickets, visit 103109.com, savedade.org or call (305)751-7283. For more information you can e-mail questions to asylum@savedade.org.