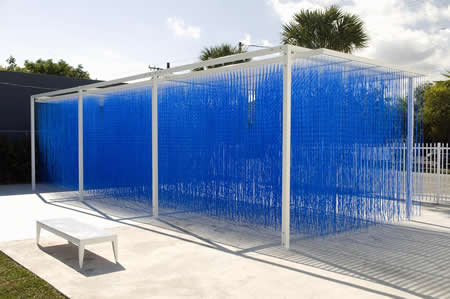 Penetrable BBL Blue 2/8, 1999
3.65 x 4 x 14 m 1 / 3.7 x 157.5 x 551.18 In.
Wynwood Arts District
Durban Segnini Gallery
cordially invites you to attend the presentation of
the Jesus Soto's catalogue PENETRABLE
Saturday May 30
from 6 to 10 pm
at the Wynwood Arts District gallery space
2145 NW 2nd. Ave.
Miami, FL 33127
The presentation of the fully illustrated catalogue, with a foreword by Carlos M. Luis, will take place in the presence of a groundbreaking Penetrable BBL Blue from 1999 on permanent view at the Durban Segnini space.
This is an invitation to explore the amazing experience of walking through the blue space while interacting with your own physical movement.
Penetrable, 1982
500 x 900 x 900 cm / 196.9 x 354.3 x 354.3 In.
Museo Nacional Centro de Arte Reina Sofía, Spain
Penetrable, 1990
508 x 508 x 508 cm / 200 x 200 x 200 In.
Patricia Phelps de Cisneros collection, Caracas, Venezuela
"A Penetrable such as this one in Wynwood opens up a new experience of an aesthetic nature because it deals with moving space. Whether it is us, or the wind blowing that provokes it, the visual and imaginary reality it offers us is like an illuminating path, or Tao. How this illumination is produced depends on the willingness of whoever agrees to experience it. But what we do not doubt is that the challenge he throws at us to change our pre-conceived opinions regarding reality, is sufficient to encourage us to travel the path proposed by him.
Whoever experiences the sensation of finding him / herself within a living object such as Soto's Penetrables, would then understand the intimate meaning of his work's poetic structure. Those vibrant rods—all blue, in this case—reveal to us a reality that we forget but which exists deep in our traditional culture, as expressed by the Egyptian and the Greek: nothing is static, life is movement. " Carlos M. Luis.
About Durban Segnini Gallery
Durban – Segnini Gallery was founded in Caracas, Venezuela, in 1970 and in Miami, USA in 1992, by its present director and owner Cesar Segnini. It specializes in contemporary painting and sculpture, emphasizing in artists who have worked with abstract expressionism, geometric abstraction and kinetic art.
Simultaneously, the Gallery strives to promote and diffuse new artistic values as well as the historical vanguards that have influenced them. Exhibitions are open to the public all year round in their galleries in Caracas, Venezuela, and Miami, Florida, which includes the Coral Gables Gallery and the newly opened space in the Wynwood District of Miami, an area where a group of major international galleries have concentrated.
Worldwide, Durban – Segnini Gallery is known for its expertise in such areas as the integration of artworks to architectural spaces as well as for its customized cnsultant services to private collections.
US Addresses
3072 SW 38 Ave. Miami, Florida 33146
Phone: 305 774 7740
Wynwood Arts District Space 2145 NW 2nd Ave.
Miami, Florida 33127
Dsegnini1216@aol.com \ www.durbansegnini.com
Venezuela Address
Calle Madrid, Las Mercedes, Caracas 1060
Phone: (58-212) 992 4231
galeriadurbansegnini@cantv.net