You are invited for complimentary tours and cocktails on Thursday May 7th at The Viceroy (485 Brickell Avenue) at 5:30pm. Come and learn more about The Greater Miami Chamber of Commerce's Goals Conference and receive a special one time only opportunity to attend the Goals Conference at a discounted rate. There is a $10 registration fee for this event.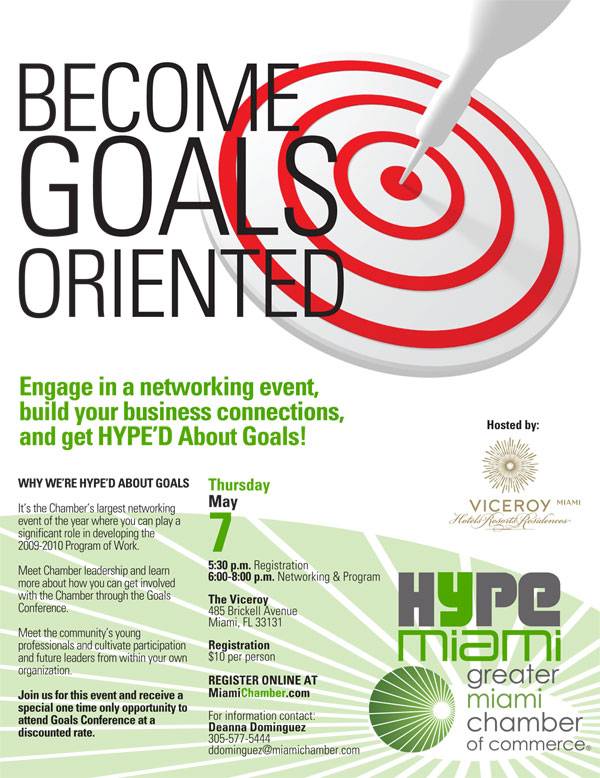 The 2009 Greater Miami Chamber of Commerce Goals Conference, May 29-30 at the newly renovated Hilton Miami Downtown, will attract more than 1,000 business leaders to celebrate the Chamber's successes throughout the past year and develop programming and goals for 2009/2010 Chamber year. This year's conference will reflect the challenges of the new economy with participant pricing designed to encourage members to attend and showcase their businesses. The two-day Trade Show Marketplace will showcase Chamber members and their products and services.
In addition to celebrating this year's achievements and creating our Program of Work for the upcoming year, the two-day conference features several opportunities to network and participate in committee workshops, Friday's South Florida Good to Great Awards® Luncheon; the Mojitos, Martinis and More networking reception; Saturday's General Session featuring the presentation of the M. Athalie Range, Miami Pioneer for Progress Award to Ruth Shack and the Henry M. Flagler Award for Visionary Leadership to David Lawrence Jr.; and the closing luncheon, Picking Miami's Next Mayor – 2009 City of Miami Mayoral Forum.