Young, Gifted & Brave – Theatre for Youth
Tuesday, 06/12/2023-07/30/2023, 05:00 pm-09:00 pm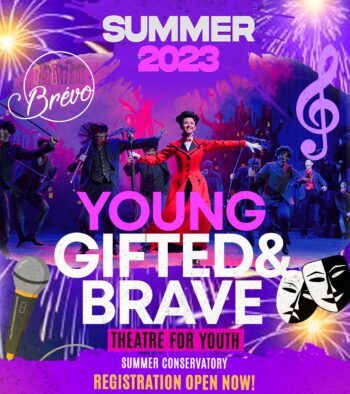 Bailey Hall
3501 Davie Road,
Davie, Florida, 33314
Buy Tickets
Cost: 25.00
Registration is now open for students interested in Brévo Theatre's (@brevo_theatre) summer conservatory program, "Young, Gifted & Brave."
The conservatory is designed for students ages 14-22 interested in theater. Registration for the program is $25.00 and is open until May 31, 2023. Interested students and parents are encouraged to sign up at Brevo Theatre. An audition is required, but no experience is necessary.
The summer conservatory runs Monday – Friday, 5 p.m. – 9 p.m. starting on June 12, 2023 – July 30, 2023. Light refreshments and bus pass for transportation will be provided.
Bailey Hall at Broward College North Campus – 3501 Davie Road, Davie, Florida 33314
Young, Gifted & Brave – Theatre for Youth engages young actors in diverse and underserved communities who are interested in high-quality actor training and performance instruction. The outreach program provides workshops and one-on-one training to students throughout the summer conservatory culminating in a final summer performance.
Brévo Theatre's mission is to enrich the community, share thought-provoking narratives and create nurturing environments through the arts.