Las Últimas Criadas
Thursday, 03/23/2023-03/23/2023, 08:00 pm-11:30 pm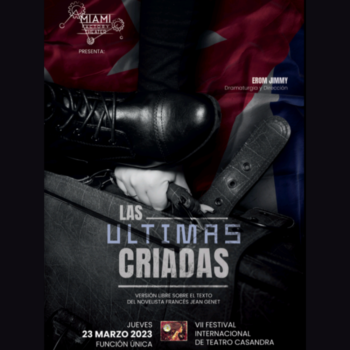 Sandrell Rivers Theater
6103 NW 7 Ave,
Miami, Florida, 33127
Buy Tickets
Cost: $20.00
The Maids (Les Bonnes) is a play by the French playwright Jean Genet, premiered in Paris in 1947.1 Suffering at its premiere the rejection of much of the public and critics, over the years it has been considered one of the key dramatic texts of the 20th century theatre.The Maids is written at the end of the interwar period, after World War II. The work describes the underworld of the maids, of the subproletariat to which redemption would be forbidden, in a certain way an underworld that would have parallels with that of Genet himself. Two maids love and hate their mistress at the same time. They have denounced the lover of this one of hers in anonymous letters. Knowing that they are going to release him due to lack of evidence and that his betrayal will be discovered, they try to assassinate his wife, they fail and they want to kill each other. Finally, one of them commits suicide…
This presentation will be in Spanish.
When: Thurs. Mar 23 @ 8:00 PM
Where: Sandrell Rivers Theater
6103 NW 7 Ave Miami, FL, 33127
Tickets: $20.00
https://tickets.ftfshows.com/TheatreManager/1/tmEvent/tmEvent958.html
Sponsor List: Miami Dade County, and Cultural Builds Miami
ADA Accommodations: It is our policy to comply with all of the requirements of the Americans with Disabilities Act. To request materials in accessible format, and/or any accommodation to attend any Fantasy Theatre Factory event, please contact Evelyn Sullivan, 305-284-8800, evelyn@ftfshows.com, at least five (5) days in advance to initiate your request, TTY users may also call 711 (Florida Relay Service).
G – Suitable for viewing by all ages