Kraine Gallery at Aqua Art Miami
Wednesday, 12/06/2023-12/10/2023, 03:00 pm-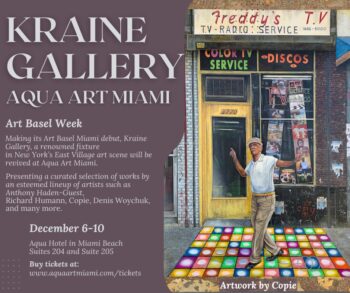 Aqua Hotel
1530 Collins Ave,
Miami Beach, Florida, 33139
Website
Cost: 30-285
Kraine Gallery, an enduring fixture in New York's East Village, is making history with its debut at Aqua Art Miami during Art Basel Miami (December 6-10).
Rooted in the cultural tapestry of New York City, Kraine Gallery, birthed from the iconic KGB Bar, has been pivotal in preserving the city's vibrant arts scene. Originally opening in 1983, the space quickly became a hub for artistic expression, expanding to include the iconic KGB Bar and The Red Room.
For Kraine Gallery's inaugural Miami Art Week, its carefully curated selection of works by esteemed artists reflects not only the richness of contemporary art but also pays homage to the cultural legacy that Kraine Gallery represents.
Each evening will showcase immersive experiences from esteemed talent including: Anthony Haden-Guest; Richard Humann; Rose Hartman; Fesel; Heide Hatry; IDIAZ (Mario Diaz); Mark Anthony Love (Mark the Artisan); Donna Mehalko; Blake Sandberg; Sadie Schwarz; Copie (Copie Rodriguez); and Denis Woychuk.
Event Details:
Location: Aqua Hotel, Miami Beach – Suites 204 and Suite 205
Dates: December 6 to December 10
Event Hours:
VIP Preview: Wednesday, December 6th: 3pm – 10pm
Public Hours:
Thursday, December 7th: 12pm – 9pm
Friday, December 8th: 11am – 9pm
Saturday, December 9th: 11am – 9pm
Sunday, December 10th: 11am – 6pm