Join B OLI Miami for their Enchanted Forest Halloween Party ✨
Friday, 10/27/2023-, 07:00 pm-11:59 pm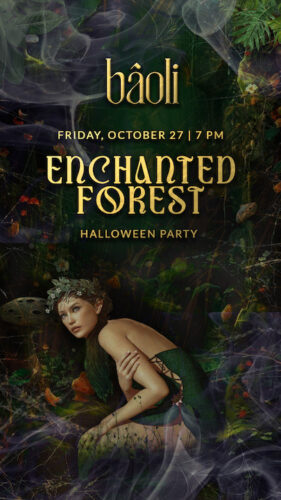 BÂOLI Miami
1906 Collins Ave, Miami Beach, FL 33139,
Miami Beach, Florida, 33139
Website
Cost:
Join us for the spellbinding Halloween party at B OLI on Friday, October 27th for a bewitching and magical night of wonder in our 'Enchanted Forest.' Unveil the mysteries, unravel the spells, and immerse yourself in a Halloween experience like no other. Enjoy our curated selection of signature cocktails like The Muse and Ubud Margarita while dressed in your most enchanting costume. But remember, in the 'Enchanted Forest,' nothing is as it seems, and every shadow holds a secret waiting to be revealed. Allow your costume to transform you into a mystical creature of the forest and let the evening lead you on a transcendental journey you will never forget!