YMCA of South Florida & Infinite Scholars Free Scholarship Fair
Monday, 01/23/2023-, 09:00 am-07:00 pm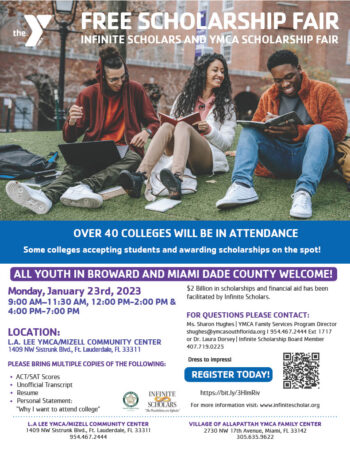 L.A. Lee YMCA/Mizell Community Center
1409 NW Sistrunk Boulevard,
Fort Lauderdale, Florida, 33311
RSVP / Register
Cost: Free
More than 40 colleges will be represented and many will be prepared to offer acceptances and scholarships to qualified students who attend the YMCA of South Florida and Infinite Scholars Scholarship Fair:
Date:
Monday, January 23
Time:
9 to 11:30 a.m.
Noon to 2 p.m.
4 to 7 p.m.
Location:
L.A. Lee YMCA/Mizell Community Center
1409 NW Sistrunk Boulevard
Fort Lauderdale
Students must bring multiple copies of ACT/SAT scores, unofficial transcript, resume and personal statement of "Why I want to attend college." Students can register at https://bit.ly/3HlmRiv.
For more information, contact YMCA Family Services Program Director Sharon Hughes at shughes@ymcasouthflorida.org or 954.467.2444, ext. 1717 or Infinite Scholarship Board Member Dr. Laura Dorsey at 407.719.0225.
Infinite Scholars has facilitated $2 million in scholarships and financial aid.