Spectrum Miami and Red Dot Miami
Opening Night Preview Party Hours, Wednesday, December 6, 6 PM – 10 PM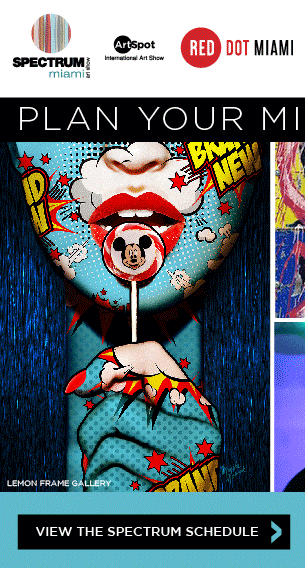 Show Hours, Thursday, December 7, 1 PM – 9 PM
Friday, December 8, 1 PM – 10 PM
Saturday, December 9, 1 PM – 9 PM
Sunday, December 10, 12 PM – 5 PM
Red Dot Miami & Spectrum Miami Tent
1700 NE 2nd Ave
Miami, FL 33132
Website
The countdown has started for the much-anticipated Miami Art Week, and now that we're less than three weeks out, we're excited to announce the Spectrum Miami and Red Dot Miami show schedules are live! From the Opening Night Preview Party to Meet the Artist events to Art After Dark, there's something for the serious collector, glitterati, and the partier at Spectrum Miami and Red Dot Miami.
Art Labs feature specially curated projects by leading galleries, art institutions, and art collectives within the show. Check out what we have in store for you at this year's shows!
Our Path
Sculptor James West of Studio Wild West celebrates the natural world with Our Path, a monumental, contemporary outdoor sculpture that invites attendees to contemplate their role in the world.
A Walk in the Clouds
Curated by Noor Blazekovic of Irreversible Projects, with the support of Jane Hart of Lemon Sky Projects and Neil Gold of Galleria Farms, A Walk in the Clouds is an unforgettable experience with an empowering message: Each of us is connected to the other through our body, mind, and spirit.
Art Loves Fashion
Curated by Celia Evans, Planet Fashion TV brings its one-of-a-kind vibe with Art Loves Fashion, featuring fashion shows, cocktails, and a live performance by a special celebrity recording artist.
Rainbow Ribbon Magic
Curated by Sarah Stieber and Theresa Fulton of Sarah Stieber Fine Art, Rainbow Ribbon Magic features Stieber's visual language, which spans artistic mediums in recognition of sisterhood and creative empowerment and reflects the colorful, energetic, and vibrant culture of women everywhere.
Art Fusion with Life Is Art
Watch art come alive during Art Fusion, curated by James Echols, as Life Is Art's specially selected group of artists creates its next masterpiece right in front of your eyes.
In celebration of the most contemporary and extraordinary art from around the world, please join us, as we cut the ribbon to open Spectrum Miami and Red Dot Miami 2017 at the Opening Night Preview Party, sponsored in association with Cervera Real Estate, at 6 p.m. Wednesday, Dec. 6. Get your tickets now for what we promise will be two unforgettable shows!