15,000 Masqueraders Set to Provide a Spectacle of Colors and Pageantry at the 2015 #MiamiCarnival Parade of Bands on Sunday, October 11, 2015
Straight Out of Compton's Star Marcc Rose To Serve As Celebrity Grand Marshall
International Queen of Bacchanal, Destra Garcia, to Headline Main Performance Stage with Pulsating and Energizing Performance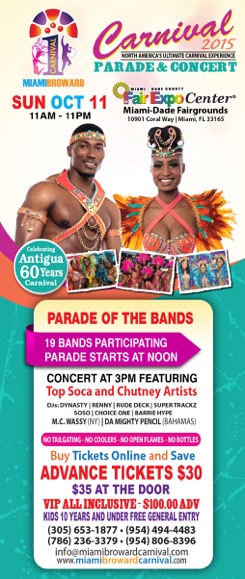 Carnival lovers and revelers are gearing up for one of the most anticipated cultural Caribbean traditions, Miami Broward Carnival #MiamiCarnival on Sunday, October 11, 2015 at the Miami Dade County Fair and Exposition (10901 SW 24th Street, Miami, Fl 33165). The gates open at 11 a.m. and the parade starts at noon. Hosted and produced by the Miami Broward Carnival One Carnival Host Committee, this feast of cultural celebration showcases the vast diversity that is the Caribbean culture of Carnival with culinary delights indigenous to the Caribbean, melodious sounds of steel bands, and colorful and elaborate masquerade costumes. This year's parade of masqueraders includes 19 bands that have been working all year on their portrayals and costume designs. #MiamiCarnival was voted one of the top 100 events in South Florida by Bizbash.
The city's warm weather, palm trees and melting pot of cultures truly makes Miami the ideal destination to host the annual #MiamiCarnival celebration. This year, #MiamiCarnival celebrates 31 years of carnival celebration and Antigua's 60 years of Carnival. Carnival is a staple tradition of the Caribbean heritage that contributes to the arts, music, history and cultural identity of Caribbean and Caribbean-American people. Miami Broward Carnival is the last major North American event on the carnival circuit leading up to Trinidad and Tobago Carnival in 2016.
"The Miami Broward Carnival is among Miami's most popular and exciting multicultural events featuring the rich Caribbean culture of our community," says Greater Miami Convention & Visitor Bureau President & CEO William D. Talbert, III, CDME. "We are delighted to welcome once again the many visitors who travel to Greater Miami to enjoy this spectacular event along with the extraordinary offerings of our destination."
"As a leading carrier in South Florida and with one-third of our network in Latin America and the Caribbean, we are delighted to support the Miami Broward Carnival and this great display of Caribbean culture. We are all about connecting people to family and friends. We are excited to honor this annual tradition," says Nicole Tesser, Manager, Regional Marketing, JetBlue.
The #MiamiCarnival music stage will include energizing performances by some of today's top heavy weight Soca artists. The star-studded concert is headlined by Trinidad's own Queen of Bacchanal Destra and the Bakanal Band. Other live performances include: Xplosion Band, Dil-e-Nadan, Fadda Fox, Snakey, Menace, Laurena Davis, Claudette Peters, Rudy, Ricardo Drue, Julian Believe, Lyrikal, MC Wassy, and MC-Da Mighty Pencil. Notable DJs who will be behind the decks all day long include: Dynasty, SoSo, 99 Jamz-DJ Waggy T, Renny, Supa Trackz, Choice-One, Rude-Deck and Barrie Hype.
"I'm definitely no stranger to the stage at Miami Carnival, originally performing some years ago with my group Crossovah. Whenever I touch the stage for Miami Carnival, it feels comfortable, feels like home," says Ricardo Dru (Son of the Caribbean). "Obviously this time it's a little different, being a solo act and coming off such a successful year. When it comes to my performance, the people can expect a lot of fun and energy. I want the public to feel a part of the performance like we are on stage together and give me the same energy I'm giving to them."
Grand Marshalls for the parade: Sharissa Ryan-Ms. Jaycees Queen-Ms. Montserrat Queen, Miami Broward Carnival Queen 2015.
"It is an honor to serve as grand marshal for Miami Carnival representing Trinidad & Tobago. Culture is everything to me. It's who I am, so I feel blessed to be able to represent and celebrate my Caribbean heritage," says actor, Marcc Rose.
2015 Sponsors: Jet Blue (Official Airline Carrier of Miami Broward Carnival),Yellow Cab, Caribbean Airlines,The Greater Miami Convention and Visitor's Bureau, Caribbean Finders, 1-800–411 Pain, Victoria Mutual Bldg Society, Antigua & Barbuda Festival Commission, Antigua Carnival
Media partners: South Florida Caribbean News, Caribbean National Weekly, jamaicans.com, Vibez Radio, Wack Radio, Caribbean American Passport News Magazine, Vibyz Radio, VibyzPromotions, Island 360, Zip 103FM-Jamaica, Now Urban Entertainment Magazine, Vibes Unit, smallislandmassive.com, eventsrusonline.com, 100 Jamz-100.3 Nassau, WACK90.1FM, caribbeanfinders.com, Caribbean Connection with David Cadillac Martin.
#MiamiCarnival is made possible with the support of the Miami-Dade County Department of Cultural Affairs and Cultural Affairs Council, the Miami-Dade County Mayor and Board of County Commissioners.
2015 Miami Broward Carnival Mas Bands and Portrayals
Bajan Fuh Eva (Rum Wild), Breakaway Kru, LLC (Las Vegas Girls), D-Junction Mas (Blissful Dreams), Euphoria Productions (Uncaged), Freaks (A Journey Through the Caribbean), Fusion Carnival LLC (Welcome to Africa), Fun Generation (The Journey of Sampson), Generation-X (The Spirit of Carnival), Island Gems, LLC (Caribbean Flavors), Jamboree Mas, LLC (Paint My Soul), Major Players (Thru Hell and Back), Mascots International (Under the Big Top), One Island Band (A Novel Idea), Party Room Squad (Wonders), Radikal International (Out of India), Revel Nation Carnival (Kosmic Elements), The Carnival Republic (Legends of Persia), Ti Chapo (It's Paradise in the Caribbean), Wassi Ones (Dey In It).
2015 Miami Broward Carnival Steelbands
Karibbean Knights
Sticks "N"Tones
Silverstars USA
Pantastic Steel
Tamboo Bamboo
Resurrection Steel
Miami Broward Carnival Signature Events:
Sunday, October 4, 2015
Event: Miami Broward Jr. Carnival
Location: Central Broward Regional Park (3700 NW 11th Pl, Lauderhill, FL 33311)
Time: 1 p.m. – 8 p.m.
Admission: $10 (on-line & select South Florida retail outlets)
Park Fee: $1.50 per person
Friday, October 9, 2015
Event: Miami Broward Carnival Kings/Queens/Individuals and Panorama
Location: Central Broward Regional Park (3700 NW 11th Pl, Lauderhill, FL 33311)
Time: 3 p.m.—11 p.m.
Admission: $15 advance tickets (on-line & select South Florida retail outlets)
Saturday, October 10, 2015
Event: Miami Broward Carnival Official J'Ouvert
Location: Central Broward Regional Park-3700 NW 11th Pl, Lauderhill, FL 33311
Time: 7 a.m. – 2 p.m.
Admission: $20 advance tickets (on-line & select South Florida retail outlets)
Sunday, October 11, 2015
Event: Miami Broward Carnival Parade of Bands and Concert
Location: Miami-Dade Fairgrounds-10901 Southwest 24 Street, Miami, FL 33165
Time: 11 a.m. –11 p.m.
Admission: $27 online (on-line & select South Florida retail outlets)
The parade will be best viewed on the inside of the Fairgrounds. Advance tickets available online at miamibrowardcarnival.com. For more information, call 305-65301877.
Please follow Miami Broward Carnival on social media:
Twitter: @MiaBroCarnival
Instagram: @MiaBroCarnival
Facebook:Â MiamiBrowardOneCarnival
Official Website: www.miamibrowardcarnival.com
Hashtags:
#MiamiCarnival #SoMiami #MiaBroJrCarnival #MiaBroCarnivalPanorama #MiamiVibes
Media interviews/credentials call Harris Public Relations at 786.897-8854 or
info@harrispublicrelations.com.
Directions to Miami Dade County Fairgrounds
From Broward County West (Coral Springs, Sunrise, Pembroke Pines, Lauderhill, Miramar)
1. Take Sawgrass Expressway South to I-75 Or take I-595 West to I-75 South (or FL Turnpike South)
2. Take I-75 South to ramp (exit 8) to right to Florida's Turnpike South toward Miami/Homestead
3. Keep on Florida's turnpike South to EITHER SW 8 Street (Tamiami Trail) or SW 40 Street and go East
4. At SW 8 Street (Tamiami Trail) exit, Turn right onto US-41 East/ SW 8th Street, go to SW 107th Ave, make right, go to SW 24th Street/ Coral Way and make right and will Arrive at the Fairgrounds
OR
5. At SW Bird Road 40th Street exit, make left and go east to SW 112th Ave, make left and head north to Fairgrounds
From North Miami, Miami Lakes or Miami Gardens
1. Take 826 South
2. Exit SW 24th Street, Coral Way, go West
3. Cross SW 107th Ave, the Fairgrounds will be on right
From East (Miami Beach or Downtown Miami)
1. Take I-95 (north or south) to 836 West
2. Take Exit ramp for 826 South
3. Exit SW 24th Street, Coral Way, go west
4. Cross SW 107th Ave, the Fairgrounds will be on right
From South (Homestead, Cutler Bay or Kendall)
1. Take Turnpike North or SW 117th Avenue north
2. Exit SW 40 Street (Bird Road)
3. Make right on Bird Road SW 40th Street and go to SW 112 Avenue, turn left onto SW 112 Avenue and continue to Fair entrance at SW 24 Street.
About JetBlue
JetBlue is New York's Hometown Airlineâ"¢, and a leading carrier in Boston, Fort Lauderdale-Hollywood, Los Angeles (Long Beach), Orlando, and San Juan. JetBlue carries more than 32 million customers a year to 90 cities in the U.S., Caribbean, and Latin America with an average of 875 daily flights. For more information please visit JetBlue.com.
Thank you for using Soul Of Miami!