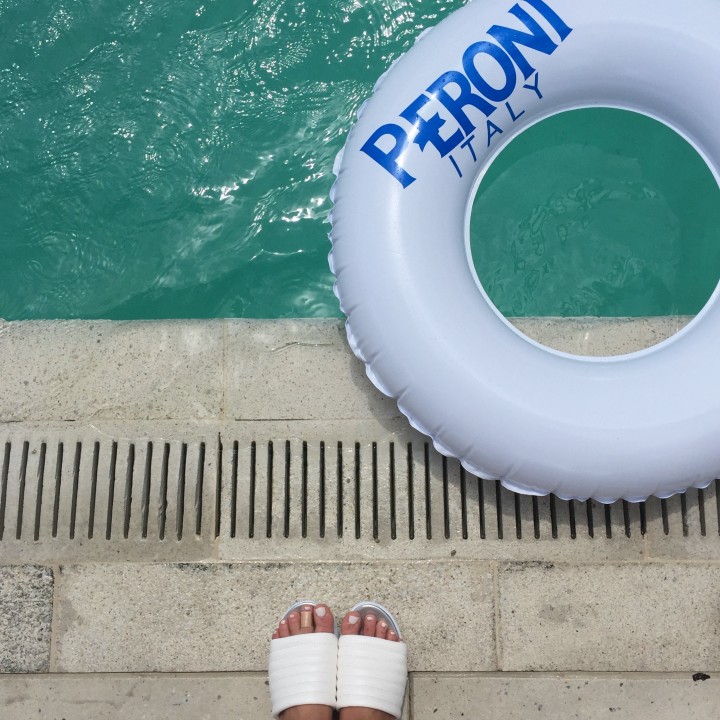 Few things make as much sense as Miami hosting Swim Week. We've got beautiful beaches, fantastic weather, an exciting nightlife and, most importantly, incredibly talented people. Our favorite part of locally-hosted international events like Swim Week is seeing the global spotlight shine on our local talent and watching them flourish. This year, we went into the bikini madness with a goal to observe and report on the accomplishments of Miami designers, products, venues, and people. Alas, here we are today sharing five of the week's best 305-bred moments.
1. Liliana Montoya – Mermaids of Atlantis Runway Show at Funkshion Fashion Week
Liliana Montoya is a Miami Beach-based brand that has captivated aspiring mermaids in the US and beyond. For the brand's third Miami Swim Week, Liliana stunned the crowd with sexy wrap-around pieces and a killer summer soundtrack that included our "it" summer song: East & Young Remix of Runaway (U&I) by Galantis. The night was made all the sweeter because it was a collaborative effort of multiple Miami girl bosses, including Valérie Engel of South of Fifth's Roses and Dreams Boutique which carries her brand. If you missed our previous feature on Valérie, check it out here for some serious life inspo then stop by her store to pick up Liliana Montoya's sultry swim designs.
2. Style Saves Swim at the Miami Beach EDITION and the SLS Hotel
Miami non-profit Style Saves, which fundraises to donate underprivileged kids with clothing, shoes and accessories, was the talk of the town with their 5th Annual Fashion Show Fundraiser at the Miami Beach EDITION. The runway show featured beach must-haves by coveted brands (Kai Lani, Regine Chevallier, and Goêt) and swoon-worthy moments thanks to the world's cutest puppies. Then, on Sunday, Style Saves hopped over to the SLS Hotel where they hosted pop-ups of local brands and boutiques (iSHINE365, Style Mafia, MVM Boutique) for a "So Miami" shopping experience in the name of charity. Thanks to Style Saves, the weekend was a fruitful one for our small businesses and for the less fortunate children in our community. P.S. If you want to contribute to their more than worthy cause, you can donate at any time.
3. Babalú at Hammock Show
Babalú, local luxury boutique and the brainchild of perfume fanatics Greg Melvin and Paolo Ambu, was also present at Miami Swim Week. We stumbled upon their elegant display outside the W Hotel's trés chic ballroom and, as soon as we spotted their unmistakeable pink logo, we were super psyched to see what they had in store. You may remember from our feature on their Perfume Genie that the team from Babalú has a flare for the exciting and the exotic and, at Hammock Show, they didn't disappoint. They used the trade show to debut their new line of artisanal candies which are fittingly inspired by notes from fine fragrances like those sold at their Lincoln Road outpost. The layer of notes in the candies, such as the honey, ginger and oriental spice in the "Spicy" line, make them a unique gift for anyone with a sweet tooth.
4. Escape Miami Style Lounge at Shelborne Wyndham Grand
Escape Miami Lounge, an annual swim-themed ode to Miami by Annie Vazquez (A/K/A The Fashion Poet) and Katya Bravo, returned for its third year bigger and better than ever. The event took over the Shelborne's pool and cabanas with pop-ups from well-known brands like Italia Independent (which will be opening their first store in Miami soon) and newly-launched ones like Flair Miami blog's new line of Miami-inspired t-shirts. We were all about the fruity summer cocktails, the burst of cooling kryogenifex mist, and The Biscayne Poet's sweet prose. This really is one of Miami's best summer parties time and time again.
5. Akai, Alexibella and Siempre Golden Brunch at Seagrape
We ended our Miami quest with brunch (because Miami, bro) at Seagrape where we scarfed down three chocolate croissants in the presence of the two designers of Akai Swimwear and their other media guests. In addition to overloading on carbs, we had the chance to chat with Daniela Longo and Chabeli De Sousa about the story behind their brand, the inspiration for their second collection, and their time at the University of Miami (Go 'Canes!). We also perused their lookbook and those of Alexibella and Siempre Golden before leaving with a super chic and cheeky Siempre Golden bikini that you'll get the chance to peep in a future post. Until then, you can find your summer swim in Akai, Alexibella, and Siempre Golden. Trust.