Planet Kitchen celebrated its maiden voyage of its Planet Kitchen Healthy Organic Food, Drink and Wellness Tour, highlighting a growing trend towards healthy and sustainable living in South Florida. It also showcased local farms, markets, restaurants and businesses who make real food and drinks to heal us naturally from the inside out.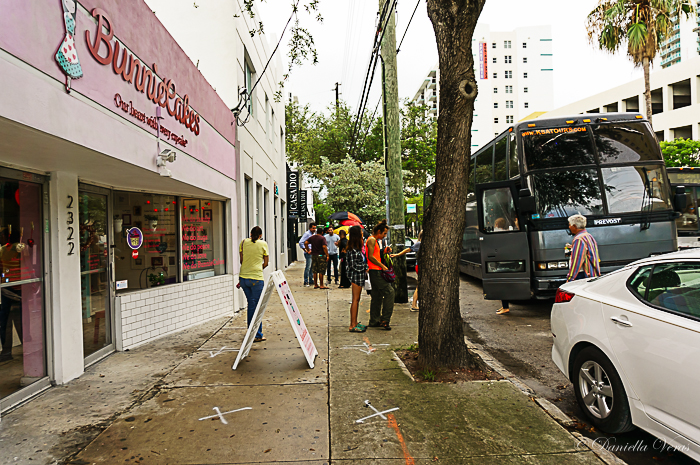 We started our tour at Trio Studio, located in between Wynwood & the Design District (Midtown) in Miami. There we had a wonderful grounding meditation to start our journey followed by  an awesome demonstration of Budokon Yoga, AcroYoga, and Aerial Yoga.   Tour participants had an opportunity to get in on the action and try out AcroYoga for themselves.  It was really beautiful to participate and watch.
Afterwards, the folks at Sambazon shared a refreshing fruit, mint and frozen acai concoction called an "acai bowl."  This superfood charged treat is also non-GMO, Fair Trade and b-certified. We enjoyed it so much, we purchased a bottle that same week.  I'm sure it will be a permanent part of our refrigerator as we support conscious companies and healthy nutrition. 
Once grounded, refreshed and satiated, we boarded the Planet Kitchen party bus while we indulged in organic, gluten-free, cordials & bottled craft cocktails from OM Cocktails amongst an awesome atmosphere of disco lights.  The OM cocktails are available in three flavors – Meyer Lemon Ginger, Wild Cranberry Blood Orange, and Coconut Water Lychee.  Though we thoroughly enjoyed them all, our favorite was the Meyer Lemon Ginger, and at 30 proof it packed a little punch. 
During the ride, we also listened to a talk from Trish Sheldon from GMO Free Florida and their mission to create a GMO labeling initiative across the state of Florida and ultimately get GMO's out of the environment.  According to GMO Free Florida "an estimated that GMOs are in 70 to 75% of the processed food in America" and you deserve to know!  Visit their website to learn more and support this initiative. 
We were also rocking the party bus with the people at Enerbee, a great tasting organic alternative to harmful energy drinks made with the finest natural energy-enhancing ingredients that nature and the honeybees have to offer.  I'd never tried it before and was pleasantly surprised with not only with how well it worked, but how much I enjoyed it.
Our next stop took us to an alternate utopian universe where permaculture, conscious and healthy living abound, Earth N'Us Farm. They raise several different types of livestock, grow fruits and vegetables, and even keep bees.  You never have to wonder if your eggs are really organic and cage-free if you purchase from this sustainable farm as you watch the chickens happily roaming about.  There's even a really cool residential tree house available for rent. After a tour of the property, we interacted with the parrots, and fed the goats that lived on site. We really enjoyed connecting with the earth and the cute, friendly animals on the property.  They also collect compost materials so feel free to save some of your left over fruits and veggies (no meat!) for their hungry earth worms. 
We then boarded the awesome party bus on the way to Choices Cafe in the Upper Eastside.  They currently have three location: Upper Eastside, Brickell and Choices Vegan Kitchen near Miami International Airport. Their motto is "…for the animals, for our earth, for our health… for we are a sum of our Choices." And what an easy choice it is!  We had an opportunity to sample the delicious Mexican Burrito and green juice. With conscious, green-eating like this you'd wonder why you didn't try it before. It's no surprise the vast majority of the consumers at Choices are omnivores.  We also had the opportunity to sample some lovely white wine from Girasole Vineyards. These organic wines are made from certified organic grapes grown.  They are also also vegan friendly and are grown in GMO-free Mendocino County, California. 
Having frequented the Brickell location a few times before, one of my favorites is the Pixsa, so I couldn't leave without ordering some to-go. Some others on the tour took our recommendation on the dish and thanked me profusely afterward. It brings us so much joy to see them expanding and growing — not only for the Cuevas brothers, but for our South Florida brothers and sisters who are turning on to a better, healthier, more sustainable way of living.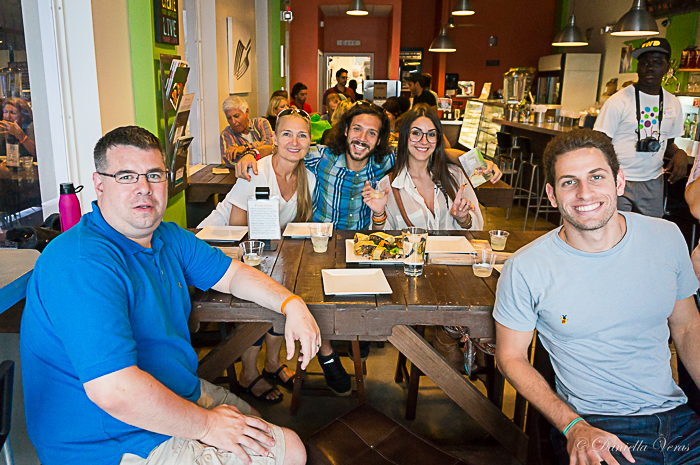 The next stop was Mi Vida Cafe providing tasty vegan and raw cuisine using local and organic produce, just off Biscayne Boulevard. Here we sampled their yummy quinoa burger and fresh pressed juice. The cafe is very omnivore friendly with a wide menu selection to suit any palate. If you have any questions about organic or vegan cuisine, feel free to ask.
We also got to wish our fearless leader, David Rosenthal of Planet Kitchen, a very happy birthday. And what a sweet birthday it was to witness the birth of the very first Planet Kitchen Food & Wellness Tour!
However, it was the tour participants walked away with fantastic goody bags filled with awesome info and sweet treats to sample.  There was a 5-day sample of Skoop super simple superfoods,  (I'm hooked!); organic, vegan and gluten-free cookies by Simply Sharon's, and organic seed tabs for planting in our little urban garden.
We had a delicious time learning about all the options available in Miami to lead a healthier and more sustainable lifestyle. It's interesting to note that most of these places like Earth N'Us Farms and Choices Cafe have existed for years, and yet very few people know about these and other healthy alternatives available in South Florida. The desire for a more conscious lifestyle is growing and getting stronger. We are glad that Planet Kitchen has had the foresight to create this movement to support it.
Find out more this an other events by Planet Kitchen by visiting:Â https://www.facebook.com/PlanetKitchen
 
Thank you for using Soul Of Miami!