Miami Design Preservation League Art Deco Weekend 2014
Friday, January 17, 2014, Noon – 11pm
Saturday, January 18, 2014, 10am – 11pm
Sunday, January 19, 2014, 10am – 8pm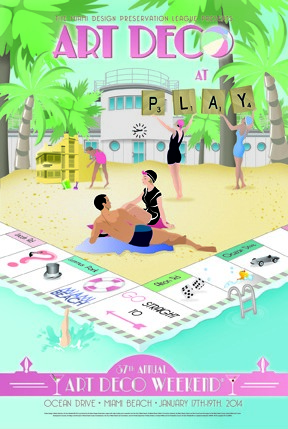 Ocean Drive
Miami Beach, FL
www.artdecoweekend.com
Instagram: @ArtDecoWeekend
Twitter: @ArtDecoWeekend
Facebook
#ArtDecoWeekend
#ArtDecoatPlay
#SobeShirley
This is gonna be one whoop-de-do weekend
Shakespeare said, "The play's the thing." The Miami Design Preservation League says play's the theme-of the boffo Art Deco Weekend that fills Miami Beach's Ocean Drive and all contiguous byways.
Even if you've been to all 36 previous ADWs, you don't want to miss Art Deco at Play; it's chock-a-block with new features like:
The Antique Experience in Lummus Park.
Indoor and outdoor movie venues.
A dance-worthy lineup of bands after dark playing jazz and standards of the Art Deco era.
Tours de force. Get to know "The District" on a 90-minute guided Art Deco walking tour, but don't stop there. There are bus tours that cover more territory and more history than you can on foot. There are drinking tours and eating tours, tours of Lincoln Road Mall and of Art Deco pools, a nature tour and a pre-automobile tour. Check the schedule and sign up in advance.
All your favorites! Count on all the events you love about ADW: the Arf Deco parade and awards, the gleaming antique cars lining Ocean Drive, the booths that beckon with irresistible aromas and dazzling displays, the speakers whose expertise enlightens all things Art Deco.
The ADW Web site will help you plan. Start with the schedule for a bird's eye view of Art Deco at Play. See what looks good, then get the details. It all begins at artdecoweekend.com, but here's the inside scoop:
ADW is more than a street fair, and this year it gives the antique shows a run for their money. In fact, the best of the antique dealers are hosting the Antique Experience.
Two climate-controlled tents in Lummus Park at 11th Street will house "Modernism: Live on Ocean Drive" and "Antique Lifestyle: Sneak Preview for the Miami Beach Antique Show." Look for vintage furniture, art, clothing and accessories circa 1925-1945. At 5 p.m. on Saturday and Sunday, hear from the expert: Modernism's Ric Emmett lectures on "Modern American Design." Check the list of Art Deco and Antique vendors here.
Admission to events at the Antique Experience is free. The tents and a formal garden are the venue for period movies Friday and Saturday evenings. Things heat up considerably both nights when the lights go down and red-hot mama Sarah Jane and her Blue Notes turn the garden into a juke joint … or maybe a Harlem nightclub. If you can sit still, you just aren't trying hard enough!
But play's the theme, and that means kids. ADW brings out the kid in everyone with toys, toy talk, displays of long-forgotten toys and lots of opportunities to play. The Playground Stage at 13th and Ocean offers live entertainment for actual kids from noon to 5 p.m. Saturday and Sunday. The film series at the Art Deco Welcome Center appeals to anyone who has ever been a kid: "The Wizard of Oz," Shirley Temple flicks, even "Little Rascals" shorts. Also at the Welcome Center, a display of vintage toys (some of them interactive) and a gen-u-ine 1935 Christmas Day living room.
A bit more cerebral are lectures at the Wolfsonian on "Iconic Playthings with Historic Style" and "Childhood Memorabilia of the Art Deco Era." But not too cerebral; there will be toys on hand and an opportunity to ask about that prized possession you've had since you were a kid.
You can even play a live version of the classic game Monopoly called "Decopoly". Thats right, Ocean Drive will be turned into a giant "Decopoly" Board. All you need to do is pick a program guide and follow the instructions and you could win some big prizes like a Jet Ski Tour for Two or a trip to the Bahamas! Also, be sure to look for Shirley Temple at the Art Deco Weekend festival, take her photo and hashtag #SobeShirley (there will 8 of them – all different shapes and sizes). Post all eight and you could win some cool prizes!
Of course we've saved the best for last: The event poster, winner of the 2014 ADW poster contest, perfectly captures the spirit of Art Deco at Play. A 1930s melange of glamour girls, muscle men and gamesmanship in playful pastels, it tells you in a glance that this is gonna be one whoop-de-do weekend.
Thank you for using Soul Of Miami!