Soul Of Miami Presents
T-Shirt Award and Art Basel Welcome Party
Sponsored by SPECTRUM Art Fair
Monday, December 2, 2013, 6:00pm-10:00pm or later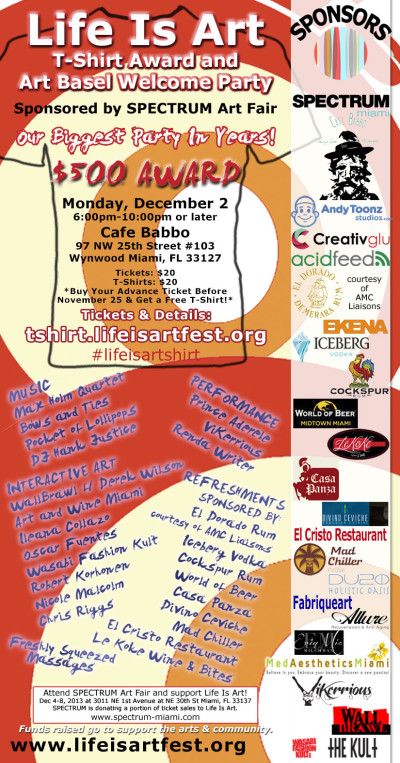 Cafe Babbo
97 NW 25th Street #103
Miami, FL 33127
Tickets: $20
T-Shirts: $20 Regular Price
* Advance Ticket + T-shirt Combo Deal – Order your ticket by November 25 and get a free t-shirt!
Buy Tickets Now
Join us for our biggest party in years! It will feature the big reveal of the winning t-shirt design and welcome in the big Art Basel Miami 2013 Week. T-Shirt Award Ceremony! $500 cash award and prizes to the winning artist and design reveal.
Music
Max Holm Quartet
Pocket of Lollipops
Bows and Ties
DJ Hank Justice
Performance
Prince Aderele – Fire Show
ViKerrious – Interactive Character
Renda Writer – Spoken Poetry
Interactive Art
WallBrawl f/ Derek Wilson & Rigo Leon – Art competition
Robert Korhonen – Live portraits
Ileana Collazo – Live painting
Art and Wine Miami – Guided Art Creation
Oscar Fuentes – Written Poetry
Nicole Malcolm – Live Painting
Christ Riggs – Live Pyramid Painting
Wasabi Fashion Kult – Popup Fashion and Live Model Painting
Sponsors
SPECTRUM Art Fair – Major Supporter
Cafe Babbo
Andy Toonz Studios
Acidfeed – Twitter Wall
CreativGlu
Ekena
Refreshments Sponsored By
El Dorado Rum
courtesy of AMC Liaisons
Iceberg Vodka
Cockspur Rum
World of Beer Midtown
Le Koke Wine & Bites
Casa Panza – Paella
Divino Ceviche – Quinua & Ceviche
El Cristo Restaurant – Sandwiches
Mad Chiller
Complimentary Food & Beverage service are first-come, first-served.
Prize Donations
Med Aesthetics Miami – Hair Removal Sessions
Fabriqueart – Custom Fabric Portrait
DU20 Holistic Oasis – One-and-a-half-hour Float
Allure Rejuvenation & Anti Aging – Gift Certificate + travel kit of Dermagenetics Ultracustom Skin Care www.AllureVIP.com
Erin Milchman – One Month Facebook Marketing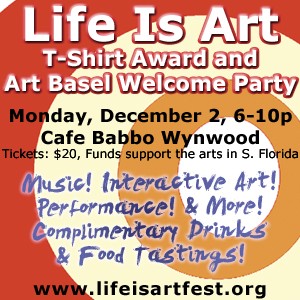 All funds go to supporting Life Is Art's mission of helping the arts and community in South Florida.
*Life Is Art is a certified 501(c)3 charitable corporation. Donations are greatly appreciated and taxdeductible to the fullest extent of the law.