Hec One Love presents LOVEISM Pop-up Shop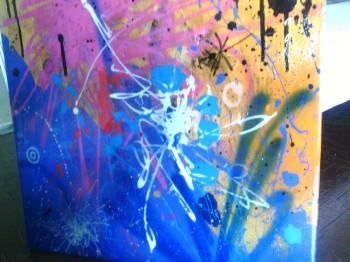 Win 317 Gallery
167 NW 25th St
Wynwood Miami, FL
Facebook Link
You've seen his work from I-95, foregrounding Bob Marley on one entire side of Armory Studios, a well-honed splash of magic that can't be missed, no matter how fast you're navigating the highway.
You've seen his work at Fountain Art Fair, Gallery 305 and at Lauderdale's Fat Village, where his Industrial Gate thresholds the way for the wily willing to venture north of the Dade County Line.
And make no mistake, it is that County Line which corrals and defines the man and the work. For it is there where, back in '85, he threw up Dade's very first Wall of Fame. And there where the next year he staged Dade's first graffiti-themed gallery. It is The 305, dig? And he is one of its original street heroes.
The cat is known as Hec One Love, and he and his inimitable imaging have done much to make Miami (and Miami-Dade) an absolutely singular sensation.
This Black Friday night, at Win 317, the man of many wonders pops-up with Love-ism, an experience in artful commodification that'll price tag everything from one-of-a-kind souvenir-sized collectibles to specially-commissioned murals. This being Hec, it'll also spur you to see the world from a whole new horizon.
This slideshow requires JavaScript.
Credit: John Hood