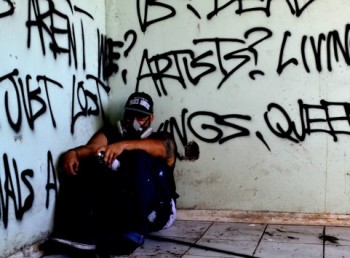 Artist Ivan Roque

Get to know local artist Ivan Roque: an artist who is as passionate about his community as he is about his art!
By Tatiana Enriquez
Ivan Roque's artwork compels us to step up close to it. It is not the kind of artwork you can absorb at a glance. His pieces draw you in and entice your eyes to go on a visual journey. They are a menagerie of images and words that often surround one central image, which demands attention, yet has an unassuming subtlety of its own. His pieces convey messages of love, community, and the battle between good and evil,  among many other themes. Simply put, there is nothing simple about them.
In addition to creating these thought-provoking and complex pieces, Ivan also gives back to  his community and supports the local Miami art scene. Every year, he donates one of his pieces to the Locks of Love Foundation (www.locksoflove.org). He also recently participated in an event for Camillus House (www.camillushouse.org) called "Covers for the Cold",  where he also donated artwork to help raise funds to help end homelessness.
When asked what his thoughts are on the Miami art scene, his response was "…it's great…there are a lot of creatives out here really trying to push the boundaries and not only watching the scene grow, but [watching] the city itself flourish." He also expressed that "…we need to get more collectors out here in order for the artwork to move…and [to shine a spotlight on] Miami artists to other parts of the world." Through these efforts, Ivan feels the Miami art scene will undoubtedly grow.
So, what advice would he give new and emerging artists? Ivan says, "network, research, sacrifice, show as much as you can and work like there's no tomorrow. Oh and did I mention network?"
Ivan shows love for his city, not only through his work, but through his relentless support of the local scene and involvement in community outreach organizations.
So , what's next? Ivan says,  "Shhhh its a suprise"!

More about Ivan Roque:
Born December of 1991, Ivan J. Roque is an urban artist from Miami, Florida. He was raised in the inner city of the infamous Carol City and has always had a passion for art, hip hop, and culture alike. His influences range from both old masters such as Salvador Dali and Jean Michel Basquiat to the geniuses of today such as Justin Bua, Shepard Fairey and GG. Roque has been able to accomplish many achievements for his young age, such as working with the rap group sensation RVIDXR KLVN and alongside established artists such as Stephen Gamson, Gabriel Gimenez and Ruben Ubiera. Also not to mention that he was chosen to be a part of acclaimed Pop Up Pianos Miami during Art Basel and a commission piece by the Town of Surfside. He is currently studying to obtain his Bachelor's of Fine Art in Visual Arts at the Miami International University of Art & Design. His work is extremely fresh and something to really be looking onto this coming year as we begin to see what can come of those who are forever lost.
Mediums:
Mixed Media
Collages
Aerosol
Ready made and found objects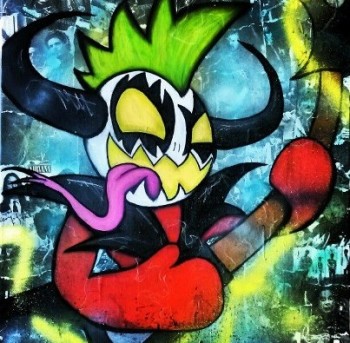 Copyright Ivan Roque Art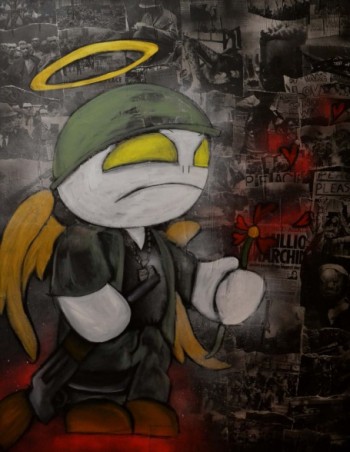 Copyright Ivan Roque Art
Exhibitions
2010- Gallerie Jenner's Cheesecake Exhibition
2011- Hope For Haiti Group Show
2011- Nova Rotoract Group Show
2012- Locks For A Cause (Donation)
2012- Karen Ledbetter Galleries "The 3rd Art Realm
2012- MIU Conglomerate Juried Exhibition
2012- Art Fusion Gallery "Reflections & Passions"
2012- City of Surfside Turtles Public Art
2012- Wynwood Cigar Factory and Gallery
2012- Ave 74 "300" Group Show
2012- Ave 74 "Miami's Most Liked Artist" Showcase
2012- Paragon Gallery "International Ballet Festival"
2012- Yo Miami's "Average Joe" Group Show
2012- Paragon Gallery "Road to Basel" Group Show
2012- Bear and Bird Gallery "Monster Mash Show"
2012- Art Basel's Pop Up Piano Miami
2012- Del Toro Shoes Collaboration/Group Show for Art Basel
2012- Art Fusion "Fusion IV Seducing the Globe" Exhition
2012- Camillus House "Covers for the Cold" Charity Event
2012- Yo Miamis Art Basel "Miconic" Exhibition
2013- The Station "Dada Pop Up" Gallery
2013- NAC Gallery "Fine Art Auction"
2013- LMNT
2013- Yo Miami's "Average Joe" Group Show
Follow Ivan at:
https://www.facebook.com/ivan.roque.79?ref=ts&fref=ts
http://fineartamerica.com/profiles/ivan-roque.html
Thank you for using Soul Of Miami!