Naked Art Basel: Sagamore Hotel's Exhibit Strips Convolution, Exposes Raw & Pure Display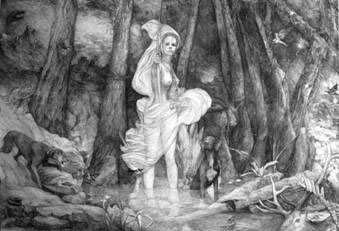 Monday-Sunday
Sagamore Hotel
1671 Collins Avenue
Miami Beach, FL 33139
www.sagamorehotel.com.
Fundamental 2012
Sagamore, The Art Hotel – An Evocative Presentation of Nature and Humanity.
Beneath convolution rests clarity—raw, naked and pure. In art, such elements clearly reflect and speak to the human soul. A departure from the colorful art-fair extravagance, one South Beach hotel has eliminated the usual embellishments to offer Art Baselers a glimpse into the captivating, organic fusion of exposed nature and the human form.
Sagamore, The Art Hotel, on Miami Beach, along with its owner, art collector and curator Cricket Taplin, proudly presents FUNDAMENTAL, 2012, highly edited Selections from the Cricket Taplin Collection. The property-wide exhibition, on display during Art Basel Miami Beach 2012, celebrates the essential and provocative aspects of nature, life and culture.
FUNDAMENTAL 2012 disarms the viewer with a cohesive presentation of understated magnificence. Commonalities— natural hues, simple shapes and textures, unaltered lighting, and organic materials—link each piece to the exhibition's theme of fundamentalism. Each artwork included boldly portrays the core elements of its subject. The conceptual focus of the collection highlights the bonds between nature and its offspring—the human form. Significant attention is paid to the symbol of all beginnings, the female body, and the elemental extremes of black and white.
The exhibit features cultural standouts like Emil Lukas, whose work relates to the perception of pressure and form in a constant investigation of structure and materials. The renowned artist's four pieces within FUNDAMENTAL, "Bulge," "Anatomy of Amber Curve," "Moon," and "Wrap," tell the story of pressure—created both by universal forces and man. On loan from the Sperone Westwater Gallery, the pieces feature strong representations of physicality and are made of organic materials including wood, thread, wax and jute.
Demonstrating the intertwining of man and environment, Michele Oka Doner's "Sargassa," 2008—an eight-foot tall relief print on handmade paper from plant pulp—presents an imaginary goddess of the sea from the artist's ongoing personal mythology into human form captured by oceanic entities such as algae and seaweeds.
Highlighting FUNDAMENTAL's gender inspiration, Christina Petersson's massive, 72″ x 96″ graphite on paper, "I Will Still Be Here, Long after the Kingdom Cometh," 2011, shares an impactful message of a woman's connection to nature—fierce and corporal.
Capturing natural sensuality, Beatriz Millar's video piece "Lux Matter" offers a journey—via a captivating video set to classical music –into the female power of creation in the preparation of bread and its offering as nourishment, a human fundamental need. The piece captures iconic reflections of female sexuality, natural wonders and the transformation of elements. Additionally, the piece investigates female roles and the borders between art and craft.
Adding to FUNDAMENTAL's strength is a showcase of pure yet provoking photography from world renowned artists including Manuel Alvarez Bravo, Diane Arbus, Morris Engel, Walker Evans, Elliott Erwitt, Lee Friedlander, Graciela Iturbide, Helen Levitt, Martin Parr, Charles Pratt, Walter Rosenblum, Joe Schwartz, Louis Stettner, and Francesca Woodman. The artworks by Melissa Dubbin and Aaron S. Davidson, Jacopo Foggini, Rashawn Griffin, Tom Lieber, Mike and Doug Starn, and Shoshana Weinberger will also be featured within the exhibition.
In tradition, Sagamore, The Art Hotel, is hosting their Annual Art Basel Brunch on Saturday, Dec. 8, 2012. For the most sought-after Art Basel event of the season, the hotel partners with six local museums including the Bass Museum of Art, Lowe Art Museum, Miami Art Museum, Museum of Contemporary Art, The Patricia & Phillip Frost Museum of Art at FIU, and the Wolfsonian-FIU.
"This year's collection is outstanding in its pureness and gathering of extraordinary talent," said Cricket Taplin. "The pieces evoke innate reactions and will connect visitors to primary instincts. We present a refreshing, natural experience that will encourage individuals to reflect on the links between man and environment."
Avid collectors, Cricket Taplin and her husband, Marty Taplin, spent much time traveling the world to visit and collaborate with artists, galleries, museums, and private and public collections. The Taplin's purchased Miami Beach's famed Sagamore Hotel in 1997. Cricket Taplin then made the curatorial decision to share her personal collection within the hotel, putting the Taplin's, their collection and the Sagamore at the center of the Miami Art Community. The property has hosted world-renowned artists for innovative art projects, including Massimo Vitali, Yoko Ono, Spencer Tunick, Olaf Breuning, Elliot Erwitt, and Roxy Paine. The Cricket Taplin Collection is a well-noted collection and exhibition space that furthers the dialogue on living intimately with art, collecting, exhibition, and public interface. Several projects have been praised for their public accessibility, performance and participatory aspects. These include The Stairwell Project and Timescapes, which involved invited artists from the New World School of the Arts who created murals in the stairwells of the hotel, as well as Spencer Tunick's 2007 on-site art installation, a controversial, yet well-received photo shoot featuring hundreds of people in the nude.
images: Christina Pettersson, "I Will Still Be Here Long After The Kingdom Cometh", 2011, 72″ x 96″, Graphite on paper.