June InSense Miami Networking Events at Kyma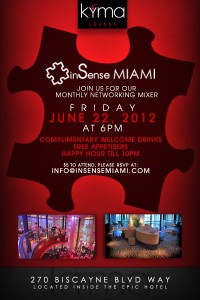 June 22,2012, 6:00- 10:00
270 Biscayne Boulevard Way
Miami Florida 33131
Please Register Online
It's HOT outside and HALF OFF in June!
Pay $5 for this months networking event and get a free drink at Kyma Lounge in Miami on June 22.
Meet professionals, entrepreneurs, small business owners, social media consultants, and possibly even clients!
Bring plenty of business cards, as we will be playing Business Card Bingo.
And as usual, we have some great raffles prizes!
Happy hour prices of will be extended to 10 PM for those who are registered for this event.
Miami Networking at Kyma Lounge on June 22, 2012
Thank you for using Soul Of Miami!