Black and White Tour Festival at H50 Club 50 Pool party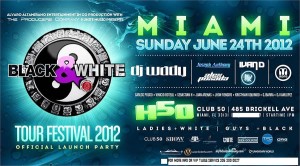 6/24/12, 12PM
Club 50 at the Viceroy
485 Brickell Ave.
More Info
DAG Productions alongside The Producers Company, Alvaro Altamirano, and Unite Music Present
A Very Special edition of the Worldwide Black and White Tour Festival at H50!! On the rooftop on the Viceroy hotel at Club 50!
Ladies in WHITE
Gentlemen in BLACK
Early bird Presale tickets $25 at Wantickets and enter code
DAG06 (DAGzero6) to receive discount on purchase
http://www.wantickets.com/Events/107934/Black-White-Tour-Festival-H50/
Text 305 300 0827 for more info
Table specials ( Presale RSVP only)
Must text me at 786 273 7401 to to RSVP
2 Ketel One's $550+ tax and tip
2 Black Labels $550 +tax and tip
or mix and match
1 Johnnie and 1 Ketel $550 + tax and tip
or
Johnny Walker Black & Russian Standard $450 +tax and tip
Russian Standard and Champagne $250 +tax and tip
Rick Chaumin Club 50 VIP host
786 273 7401
twitter:@hmc2575
fb:facebook.com/Rickchaumin
whatsapp:3053000827
Thank you for using Soul Of Miami!