Meet and Greet with 96K-Rock's Bubba The Love Sponge, Zito & Garrett and Stan & Haney at Seminole Casino Immokalee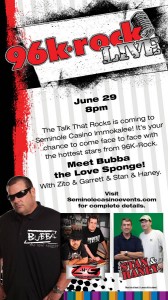 Friday, June 29 , VIP event: 7:30 p.m. – 8 p.m./ Free event, open to the public: 8 p.m. – 9:30 p.m.
Event Pavilion at the Seminole Casino Immokalee
506 South 1 Street
Immokalee, FL 34142
www.seminoleimmokaleecasino.com
Seminole Casino Immokalee will host a meet and greet event with 96K-Rock on-air personalities Bubba The Love Sponge, Zito & Garrett and Stan & Haney. This event will feature a private VIP event from 7:30 p.m. to 8 p.m. with a photo opportunity and autograph session with each DJ. The event also features complimentary appetizers, a free 96K-Rock T-shirt and a $25 food and beverage voucher for use inside the casino. There will also be a cash bar. Tickets can be purchased at www.96krock.com for $50.
The private event will be followed by a free meet and greet event open to the public from 8 p.m. to 9:30 p.m. with a cash bar only.
Must be 21 or older to attend either event.
Thank you for using Soul Of Miami!