Secret Saturdays Kyma Lounge at The Five Star Epic Hotel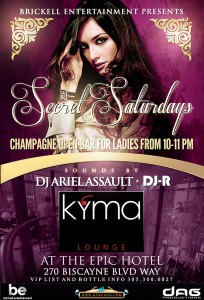 6/2/12, 10PM
Kyma Lounge
270 Biscayne Blvd
More Info
It is with My Pleasure Ladies and Gentlemen Brickell Entertainment Invites you To be Delighted,amazed and Fascinated "Secret Saturdays" At Kyma Lounge
Located in the Epic Hotel and Residences in Downtown, Kyma Lounge represents what the outgoing professional deserves and expects in South Florida.Kyma Lounge is geared to be the "it spot" in Miami
Downtown nightlife as it sits ideally situated on the Miami River with a breathtaking view. The structure originally designed by nationally renowned Telesco & Associates, the chic lounge boasts 30ft ceilings, LED lighting, circular bar, flat screen TVs, custom lighting fixtures and custom lounge furniture.
The second floor which features its own bar boasts a more intimate setting. One of the elements that set Kyma Lounge apart is that guests can arrive either by car or boat which makes Kyma an ideal pit stop for cocktails if boating in the downtown area.
The outdoor terrace/dock is the perfect spot to enjoy cocktails and bites while appreciating Miami's most impressive high-rises that flank the Miami River
Text " Secret Saturdays" Along with first and last names to 305 300 0827 to be included in the Rick C VIP Guest List for complimentary admission until 12: 30 AM
For VIP and Table reservations email RickC@Brickellmiamisobe.com or text " Table RSVP SS" to 305 300 0827
Ask me about our Bottle Specials
Thank you for using Soul Of Miami!