Mute Miami presents St. Vincent with Awesome New Republic and DJ Runsevimrun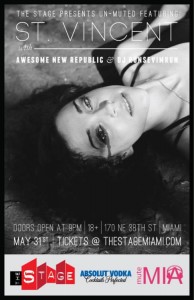 Thursday, May 31, 2012, 9:00 p.m.
The Stage!
170 NE 38th Street
Miami, FL.
Tickets on sale NOW at thestagemiami.com.
St. Vincent's (aka Annie Clark) intelligent, alternative indie rock touches on the timeless musical novelty that started creeping out of Brit-rock in the late '60s from acts such as Bowie and Abbey Road-era Beatles while combining it with the same 'anything goes' sensibilities of Kurt Vile and Ariel Pink. After touring most of the States, Europe, and pulling off an awe-inspiring set at Coachella, she performs for the first time ever in Miami at The Stage on Thursday, May 31 with Awesome New Republic and DJ Run Sevim Run.
Superb in her ability to fascinate the listener, Texas native Annie Clark's openness and ability to fine -tune her experimentation in dimension and soundscapes has made her an indie music phenomenon. Her latest album , Strange Mercy , has been showered with accolades by some of the most read music blogs and publications in the nation including top spots on Rolling Stone and Pitckfork's Top 50 Albums of 2011. St. Vincent's musical talents and ability to thrill and confuse you all at once is an amazingly exclusive experience all it's own, with the antagonistic shred of her guitar and mind -blowing voice, she has created a unique niche genre for herself.
"We are very excited to bring this show to Miami, St. Vincent is very special to us," said Johanna Visc aino, President and F ounder of Mute Miami who is also the lead singer of the Miami- based folk band, Sirens and Sealions. The show is produced by Mute Miami, a young production company striving to UN-MUTE great music and expose Miami to artists who have never visited our city.
Thank you for using Soul Of Miami!