LegalArt presents Situation Range
Friday, May 25, 2012, 8:00 – 11:00pm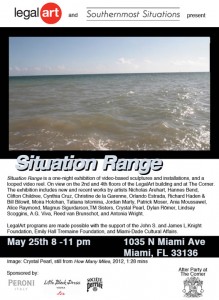 LegalArt
1035 N Miami Ave,
Miami, FL 33136
LegalArt is pleased to present Situation Range, an exhibition of video 6 based works by national and international artists. Organized by the curatorial collective Southernmost Situations, the exhibition will occupy the second and fourth floor s of the LegalArt building, as well as The Corner bar, aptly located on the North west corner of the LegalArt building. On view for one night only Friday, May 25 from 8:00 pm to 11:00 pm, Situation Range features video 6 based sculptures and installations, and a looped reel of short videos.
As a relatively familiar and accessible medium, video art has the power to frame, communicate, and present a broad range of topical issues, whether through traditional linear narratives or timeless abstraction. The works I n this exhibition are brought together to illustrate the expansive nature of video art and its seemingly boundless capacity to effectively present in terms of formal and visual content. Video as a geographical, cultural, linguistic, technological, domestic, ethnographical, political, historical, and art historical record, among other subjects, are all represented in Situation Range.
Featured artists include: Nicholas Arehart, Hannes Bend, Reed van Brunschot, Clifton Childree, Cynthia Cruz, Orlando Estrada, Christine de la Garenne, Richard Haden & Bill Bilowit, Moira Holohan, Tatiana Istomina, Jordan Marty, Patrick Moser, Ania Moussawel, Crystal Pearl, Alice Raymond, Dylan Römer, Lindsay Scoggins, Magnus Sigurdarson, TM Sisters, A.G. Viva, a nd Antonia Wright.
The exhibition begins with How Many Miles, a video by Crystal Pearl shot at the southernmost point of the U.S— the birthplace of Southernmost Situations. Coupled with audio from a market in Cuba, the imagery in How Many Miles exudes a deep-seeded nostalgia prevalent in Miami for home, family, and absent cultural values. ANKERN, by German artist Christine de la Garenne, is a montage of underwater anchor footage , serving as a visual metaphor of calm, rest, and refuge in stormy seas. Ania Moussawel's Twice Fried Plantains delivers a cinematic documentation of the process of making tostones , a staple in Latin 6 American cuisine. Artist Dylan Römer will launch his smartphone application, Time Piles, to create a new video on site that employs real 6 time footage to explore issues of displacement, memory, and altered states of consciousness. Orlando Estrada's Tahiti sarcastically exaggerates the instant capabilities of art6 making by presenting a ready6 made that isn't really a video, but simply moving imagery.
German artist Hannes Bend's installation Essence is composed of collected footage from an iPad photobooth a t a Miami Beach bar, a piece of the recently burned down "Senator" tree, and a performing go 6 go dancer. The "Senator" was the fifth oldest living tree, at more than 3,500 years old, until a woman burned it down while doing meth. The go6 go dancer allud es to Felix Gonzalez Torres' Untitled (Go-Go Dancing Platform), 1991, and references a recently publicized "tree-hugger" at Miami's Ultra Music Festival.
Richard Haden and Bill Bilowit's Sundays, puppies, nails, the rest document s another facet of social real ism. Haden collects videos of Miami's drug addicted prostitutes in various states of their c omfort, which Bilowit then edits into short segments. The organic process dictates the filters and transitions Bilowitz uses, interjecting subtle abstractions into the sometimes hard to watch segments.
Nicholas Arehart's Speech uses a simple effect to create an obvious political statement, using a recording of a congressional speech. Tatiana Isotamia's Historical inquiry: Prima and Lindsay Scoggins' Challenger both use found recordings and technological techniques to portray different events, questioning the validity of historical documentation.
French artist Alice Raymond's Cinema dissects cinematic elements such as cinematography, soundtrack, narrative, and dialogue in a purposefully obscure manner. The importance of linguistics and their translation is romantically explored through French narration and its translation via sources such as Google Translator and Raymond's francophone friends.
What's lost in translation depends on the extent of one's understanding of the original French narration. Dark cinematography and a soundtrack to nothing also investigate the significance of their own roles. Jordan Marty's Some(Song uses highly filtered footage from a "King of t he Hill" cartoon episode as source material for a sculptural and hypnotizing colorful video loop. A CRT monitor sits on a rug on the floor, as if awaiting its next source of attention.
TM Sisters' video Lite Nite Shimmer captures and projects an energy that implies equal hierarchy between the "battle and celebration" of night and day through the use of spectacular editing and effects. A.G. Viva's installation Eclipsed recreates the perception of a cosmic phenomenon with the use of a mirror ball, an icon of celebration, and projected video alongside a hologram-like video performance by the artist that uses physicality as a means of energy transfer.
The theatrical role of the artist is both the creator of the piece as well as the space for which energy and attention is transferred. This role is complicated by the S&M gimp mask being worn, which eclipses the physical identity while establishing a level of objectification.
On the second floor, a looped reel presents the works of Reed van Brunschot, Cynthia Cruz, Moira Holohan, Patrick Moser, Magnus Sigurdarson, and Antonia Wright. At The Corner bar, Clifton Childree's We Want Beer is appropriately situated amidst drinkers. I t taunts and tempts with repetition at the aesthetic intersection between analog nostalgia and digital means. After the opening, The Corner bar will offer drink specials inspired by the theme of the exhibition.
LegalArt's programs are generously supported and made possible with the support of the Knight Foundation and Emily Hall Tremai ne Foundation. We would like to express our special thanks to Dorsch Gallery. The opening reception sponsored by Peroni, Little Black Dress Vodka and Perrier.
Thank you for using Soul Of Miami!