Out in the Tropics kicks off this year with Sean Dorsey Dance from San Francisco
Saturday, May 12, 2012. 8:00 p.m.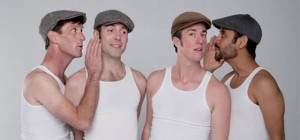 Colony Theatre
1040 Lincoln Road
Miami Beach, FL 33139
Admission: $20 general and $15 students/seniors.
Tickets can be purchased at www.FUNDarte.us or www.ticketmaster.com, by calling 800.745.3000 and 305.674.1040, or in-person at the Colony Theatre's box office.
Out in the Tropics, a different kind of performing arts series, brings a full range of award-winning, contemporary Gay and Lesbian artists and art events to South Florida annually. In the third year of Out in the Tropics, FUNDarte is presenting two wildly different and intriguing groups: Sean Dorsey Dance from San Francisco on May 12, 2012 and Teatro El Publico's staging of Caligula from Havana, Cuba on June 14 through 16, both at the Colony Theatre. Besides performances, this series will also include a variety of events such as panels, master classes and artist receptions from May 12 through June 16, and will feature three screenings of Pedro Almodóvar's films; Bad Education (La Mala Educación), Law of Desire (La Ley del Deseo) and All About my Mother (Todo sobre mi madre), which will be shown at the Centro Cultural de España in Miami.
Opening the Series this year is Sean Dorsey Dance with his outstanding Florida premiere of The Secret History Of Love. Award winning choreographer Dorsey creates visual poems hinging on universal narrative of love, heartbreak and the desire for community. His dances seamlessly stitch together past and present, hope and history, personal intimacy and social context. The Secret History Of Love is an epic work that chronicles the ways LGBT people have built relationships throughout history, under circumstances when it was required that they remain inconspicuous. The result is a rollicking, stirring treatise on the enduring language of the heart.
The Secret History Of Love is the culmination of a two-year community research process conducted by Sean Dorsey. Dorsey conducted archival research and directed LGBT Elders Oral History Projects in San Francisco and Boston. The Secret History Of Love features the voices and stories of these elders, along with powerful, moving and hilarious episodes from our community's buried history of love.
Sean Dorsey is an award-winning choreographer, writer and dancer. Celebrated as the nation's first out transgender modern dance choreographer, Dorsey has won audiences from San Francisco to New York with his powerful dances that provide a window into transgender and queer experience. Dorsey is also the founder and Artistic Director of Fresh Meat Productions, the nation's first transgender arts nonprofit creating, presenting and touring year-round transgender arts programs.
The Secret History Of Love features a stellar cast of dancers and performers: Sean Dorsey, Juan De La Rosa, Brian Fisher, Nol Simonse and Shawna Virago. Original music by Jesse Olson Bay, StormMiguel Florez, Alex Kelly, Keith Kenniff, Ben Kessler, Jeffrey Alphonsus Mooney and Ramon & Jessica. Sound Engineering by Laura Dean; Lighting Design by Clyde Sheets; Costume Design by Tiffany Amundson.
For more information about local events, please visit www.miamiartguide.com