Seminole Casino Immokalee Presents "Balloons Over Paradise"
Saturday, April 14 & Sunday, April 15, April 14 -6am-8:30pm, April 15- 6am-4pm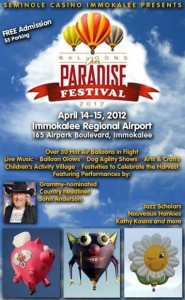 Immokalee Regional Airport
165 Airpark Blvd.
Immokalee, FL 34142
www.seminolecasinoevents.com
Seminole Casino Immokalee will bring its inaugural "Balloons Over Paradise" Festival to Immokalee Regional Airport on April 14-15, starting at 6 a.m. daily. This celebration of flight will feature 30 custom hot air balloons, live music by Grammy-nominated country singer John Anderson and other artists, award-winning food trucks, children's activities, carnival games, artisan villages, demonstrations by agility dogs and more. Admission to the event is free.
The colorful balloons will kick off each morning at 6 a.m. with an illuminated light show to the music of Drum 'n' Strings, a string quartet with a rock and jazz drummer. Festival-goers will be able to walk among the balloons as they inflate for a mass ascension into the skies and remain in air for several hours. Specialty balloons include the Flying Purple People Eater, a jolly monster with long legs and neon claws; Ham-Let, the world's largest flying pig; and Miss Daisy, a flower that winks.
Attendees will enjoy a great line-up of activities, all to the sounds of Southwest Florida Big Band, Jazz Scholars and Gene Ferrari. Children will join in on the fun with storytelling, puppet shows, bounce houses and a rock climbing wall.
Gourmet food trucks will also be on hand, serving Italian cuisine, delectable cupcakes, Korean fusion, South American-inspired entrees and more. Food trucks include Ciao, Fat Tortillas, Grill Master Café, Miami Spice Grill, Nosh Truck, Dolce Cupcakes, Kona Ice and Bite Gastrotruck, known for its award-winning hamburgers. Attendees will also enjoy funnel cakes, BBQ, cotton candy and other treats from area vendors.
On Saturday, April 14, from 6 a.m. to 9 p.m., attendees will also enjoy the Harvest festival parade and the crowning of the Harvest Queen. Musical entertainment includes performances by country singer JJ McCoy and blues and R&B group Nouveaux Honkies. At 6:45 p.m., country star John Anderson will perform among the glow of these astonishing balloons.
The balloon festival will continue on April 15, from 6 a.m. to 4 p.m., with musical entertainment and other activities. At 2 p.m., ASCAP award-winning singer Kathy Kosins will perform jazz classics.
Parking is $5. Umbrellas and coolers are not permitted.
Thank you for using Soul Of Miami!