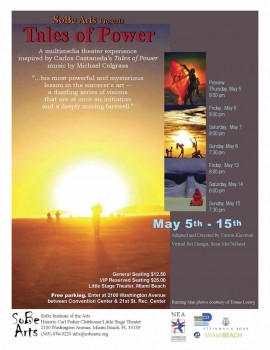 Preview: Thursday May 5 – 8:00pm
Opening Night: Friday May 6 – 8:00pm
Little Stage Theater @ SoBe Arts
2100 Washington Avenue
Miami Beach, Florida 33139
More Info.
Performance Schedule through May 15:
Friday & Saturdays 8:00pm, Sundays 7:30pm
Ticket Prices:
General Seatring: $12.50
VIP Reserved Seating: $25.00
Discounted tickets available for groups of 10 or more – call 305 674 9220
Inspired by Carlos Castaneda's Tales of Power
Music by Michael Colgrass
Adapted and Directed by Carson Kievman
Virtual Set Design by Sean McClelland
Musician: Robert Chumbley – Piano
Don Juan concludes the instruction of Castaneda with his most powerful and mysterious lesson in the sorcerer's art — a dazzling series of visions that are at once an initiation and a deeply moving farewell."
"If you could only choose to read one of Carlos' books, this has to be the one."
"In this astonishing work, Carlos Castaneda at last completes the long journey into the world of sorcery that began with his now-legendary meeting with don Juan. Drawn back by the knowledge that the sorcerer's task has not been completed, Castaneda returns to plumb the final, awesome secrets of the sorcerer's explanation of the world-to learn, in don Juan's world and his own, the last lesson of a unique and arduous apprenticeship."
Thank you for using Soul Of Miami!