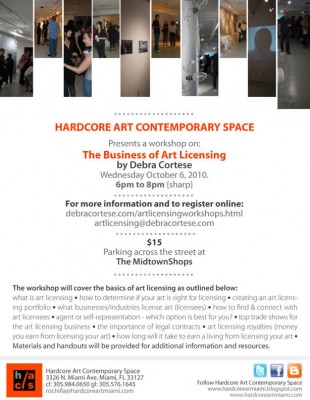 The Business of Art Licensing by Debra Cortese
Wednesday, October 6, 2010., 6:00pm to 8:00pm
Hardcore Art Contemporary Space
3326 North Miami Avenue. Miami, FL. 33127
Website.
$15
The workshop will cover the basics of art licensing as outlined below:
what is art licensing • how to determine if your art is right for licensing • creating an art licensing portfolio • what businesses/industries license art (licensees) • how to find & connect with art licensees • agent or self-representation – which option is best for you? • top trade shows for the art licensing business • the importance of legal contracts • art licensing royalties (money you earn from licensing your art) • how long will it take to earn a living from licensing your art • Materials and handouts will be provided for additional information and resources.
For more information and to register online: http://debracortese.com/artlicensingworkshops.html
artlicensing@debracortese.com
Parking across the street at The MidtownShops