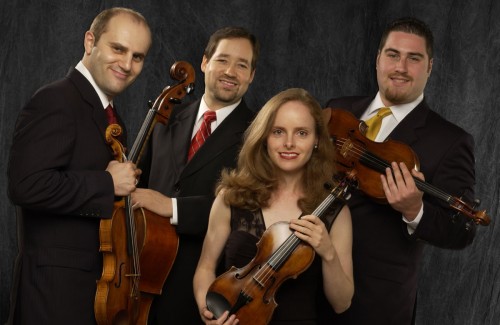 NEW MUSIC MIAMI ISCM FESTIVAL SERIES CONCERT VI
ORLANDO JACINTO GARCIA, DIRECTOR
ALFREDO RUGELES, GUEST COMPOSER
AMERNET STRING QUARTET AND NODUS
SAT APRIL 17, 2010 3PM
WOLFSONIAN – FIU
ABOUT THE 2010 NEW MUSIC MIAMI ISCM FESTIVAL SERIES
The 2010 festival of contemporary cutting edge music and video art continues to build on the success of previous festivals and will focus on chamber, orchestral, electronic music and video art from around the world performed by some of the most exciting performers of contemporary music. Eight concerts and several pre-concert Meet the Artists sessions as well as forums and master classes will be presented along with over 20 South Florida and world premieres. As with last year's event the 2010 festival is being held over 6 months allowing for more interaction between the guests, students, and audiences. The 2010 festival will showcase such varied ensembles as the NODUS Ensemble, the FIU New Music Ensemble celebrating its 20th year, the FIU Symphony Orchestra, the FIU Symphonic Wind Ensemble, the Amernet String Quartet, the Zagreb based Cantus Ensemble, and guest performers flutist Margaret Lancaster and electric violinist Todd Reynolds, as well as Pulitzer prize winning composer Bernard Rands and international guest composers Alfredo Rugeles from Venezuela and Flores Chaviano from Spain. This year's festival again includes video and new forms of technology in concerts being held at venues as varied as FIU's Wertheim Performing Arts Center and The Patricia & Phillip Frost Art Museum, the Spanish Cultural Center in Coral Gables, and the Wolfsonian – FIU on Miami Beach. In its 12th year, the New Music Miami Festival has established itself as one of the premiere cutting edge arts events in the South Florida area.
ABOUT THE GUEST PERFORMERS AND COMPOSER
Widely known as a composer and orchestra conductor, the Venezuelan Maestro Alfredo Rugeles was born in Washington D.C while his parents were working in the diplomatic service. He carried out his musical studies at Escuela "Juan Manuel Olivares" ("Juan Manuel Olivares" School), Caracas. In 1976 he obtained Diplomas in Singing and Choral Conduction from his teachers Fedora Alemán and Alberto Grau, respectively. He studied Composition with Yannis Ioannidis until 1976, year in which he travels to Germany with a scholarship, for continuing his studies in the Robert Schumann Institute of Düsseldorf, where he obtained Diplomas in Composition and Orchestral Conducting in 1979 and 1981 as a student of Gunther Becker and Wolfgang Trommer, respectively.
He attended the Cursos Latinoamericanos de Música Contemporánea (Latin-American Contemporary Music Courses) as a student and lecturer. He got a scholarship from the Composition Workshop during the New Music Courses in Darmstadt. He takes part in International Orchestral Conducting Courses taught by Sergiu Celibidache, Michel Tabachnik and Franco Ferrara. He has been invited to important international events as composer and orchestra conductor. In 1979 he obtained the Premio Nacional de Composición (National Composition Award) for his work "Somosnueve" ("We-are-nine") and in 1985 the Premio Municipal de Música (Municipal Music Award) for its work "Tanguitis". Currently he is in charge of a tutorial class in Contemporary Composition and of a chair in Techniques of Orchestral Conducting at Instituto Universitario de Estudios Musicales (Universitary Institute of Musical Studies (IUDEM).
As a Conductor, Alfredo Rugeles has performed leading the Robert Schumann Institute Orchestra of Düsseldorf; the Siegerland Orchestra of Hilchenbach; the Dutch Chamber Orchestra; Chamber Groups of Contemporary Music in Düsseldorf, Köln and Darmstadt; the Sinfónica Nacional de México (National Symphonic of Mexico); Orquesta Filarmónica de la Universidad Nacional Autónoma de México (Philharmonic Orchestra of the National Autonomous University of Mexico); Orquesta de Cámara Mayo de Argentina (Mayo Chamber Orchestra of Argentina) and Orquesta Sinfónica de El Salvador (Symphonic Orchestra of El Salvador). Furthermore, he is a permanent guest Conductor of the most prestigious orchestras of the country and has had the privilege of accompanying important soloists such as Judith Jaimes, Maurice Hasson, Harriet Serr, Margot Parés-Reyna, Eva María Zuk, Julius Berger, Ruggiero Ricci, Montserrat Caballé, Alirio Díaz, Elizabeth Glass, Karoly Mocsari, Shlomo Mintz, Arnaldo Pizzolante, Vladimir Spivakov, Carlos Duarte, Mstislav Rostropovitch, Renata Scotto, Frans Helmerson, Karin Lechner, Sergio Tiempo, Anssi Karttunen, Jorge Luis Prats, and Jane Eaglen, among others. His repertoire embraces the universal symphonic music as well as the opera, having conducted numerous opening nights of works by Venezuelan composers and first auditions of the international contemporary repertoire.
The Amernet String Quartet, Ensemble-in-Residence at Florida International University, has garnered worldwide praise and recognition as one of today's exceptional string quartets.The ensemble rose to international attention after only one year of existence, after winning the Gold Medal at the 7th Tokyo International Music Competition in 1992. Three years later the group was the First Prize winner of the prestigious 5th Banff International String Quartet Competition. The Amernet String Quartet has been described by The New York Times as "an accomplished and intelligent ensemble", and by the Nürnberger Nachrichten (Germany) as "fascinating with flawless intonation, extraordinary beauty of sound, virtuosic brilliance and homogeneity of ensemble".
The Amernet String Quartet was formed in 1991, while two of its members were students at The Juilliard School. Founding members Marcia Littley and Javier Arias have been joined by fellow Juilliard graduates, violinist Misha Vitenson and violist Michael Klotz. Their busy performance schedule has taken the group to major musical centers and smaller cities across the United States. They also have performed concerts in Japan, Canada, Germany, France, Switzerland, Korea, Mexico, and Romania. The Amernet's New York debut was at Merkin Hall in 1994, with a return engagement in 1995. Subsequent New York appearances include Carnegie's Weill Recital Hall in 1996 and 1998, the Americas Society in 1998, and Alice Tully Hall in 1997 and 1998, which The New York Times described as "immensely satisfying… most notable for the quality of unjaded discovery that came through so vividly."
From September of 2000 until May 2004 the Amernet String Quartet was Corbett String Quartet in Residence at Northern Kentucky University, where they headed the Patricia A. Corbett String Program. Previous to that, the group held a residency at the University of Cincinnati College-Conservatory of Music where they taught chamber music for four years. The Amernet String Quartet has received grants from the Corbett Foundation, the Greater Cincinnati Foundation, the LaSalle Foundation, the Fine Arts Fund, the Cincinnati Chamber Music Society and the Amernet Society for school outreach projects, commissions of new chamber music works and for their unique concert and conversation series. The group was the recipient of a Chamber Music Rural Residency Award in 1995. During that year they divided their time among the communities of Johnstown, Somerset and Indiana, Pennsylvania.
The Amernet Quartet has conducted workshops and master classes in Buffalo NY, Memphis TN, Erie PA, Los Angeles CA, Logan UT and other cities. They were founders of The Norse Festival, a summer chamber music workshop at Northern Kentucky University providing an opportunity for young musicians from the region to work intensively in chamber groups, under their guidance. Currently they host an annual summer Chamber Music Camp in Miami called Animato. The group has recorded the Concerto for Clarinet, Oboe, String Quartet and Bass by John Harbison with Sara Lambert Bloom and Charles Neidich as soloists, "The Butterflies began to Sing" a work for String Quartet, Bass, MIDI keyboard and computer, by Morton Subotnick, a complete CD of quartets by American composer Stephen Dankner, as well as a recording of the Debussy String Quartet and the Chausson Concerto for Piano, Violin and String Quartet. The Amernet Quartet maintains a connection with today's composers, and has worked closely with such composers as Anthony Brandt, John Corigliano, Stephen Dankner, David Epstein, Toshi Ichiyanagi, Gerhard Samuel, and Morton Subotnick. The Amernet String Quartet performs contemporary repertoire and commissions works form today's leading composers from all over the world. The Amernet Quartet has collaborated in concert with numerous artists and ensembles, such as the Tokyo, the St. Lawrence, and the Ying Quartets, Steve Ansell, Yehonatan Berick, Andres Diaz, Roberto Diaz, Miriam Fried, Yehuda Hanani, Toby Hoffman, Ida Kavafian, Paul Katz, Anton Kuerti, Ruth Laredo, Anthony McGill, Rainer Moog, Eugene Pridonoff, Sandra Rivers, Shauna Rolston, Nathaniel Rosen, Eric Shumsky, James Tocco, Dame Gillian Weir and Kyung Wha-Chung, Zvi Zeitlin, and many others. The Amernet String Quartet was named Quartet-in-Residence at Florida International University in the Fall of 2004.