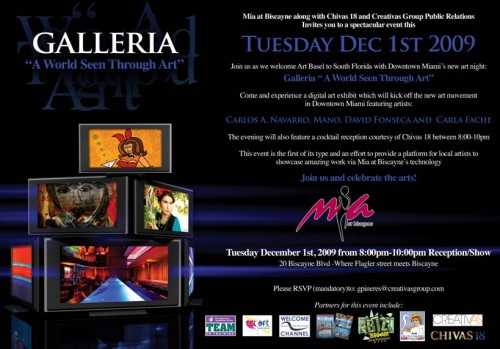 DECEMBER 2009 MARKS A SERIES OF TECHNOLOGICAL ADVANCES IN SOUTH FLORIDA EACH OF THEM CAN BE EXPERIENCED AT ONE LOCATION: MIA AT BISCAYNE
Since opening the doors to the public Mia at Biscayne has been wowing patrons with an eclectic series of events. From fashion driven to music driven functions, each day has represented a unique event at this new spot. During the month of December this newly proclaimed art and entertainment complex- supper club will leave guests with their eyes wide open.
December 1, 2009 Mia at Biscayne along with Creativas Group Public Relations invites the public to a spectacular event while welcoming Art Basel to South Florida. The event will mark Downtown Miami's new art night: Galleria "A World Seen through Art." Art lovers may come and experience a digital art exhibit which will kick off the new art movement in Downtown Miami featuring an array of talent. Kicking off the series will be a handful of renowned artists: Carlos A. Navarro, Mano, David Fonseca and Carla Fache. The evening will also feature a cocktail reception courtesy of Chivas 18 between 8:00-10:00pm. This event is the first of its type and an effort to provide a platform for local artists to showcase amazing work via Mia at Biscayne's technology. Partners for this event include: Leukemia Foundation, Creative Children Therapy,  Welcome Channel, Soul of Miami Mag, Next Miami, 880TheBiz. The event will take place every Tuesday at Mia and local artists are encouraged to participate. For more information: lmsantana@creativasgroup.com.
Wednesday December 2, 2009 Art takes a different form as Mia at Biscayne and Ema Savahl Couture present: "When Art Becomes Wearable," a collection embellished with CRYSTALLIZED™ Swarovski Elements. VIP guests will enjoy a reception courtesy of Chivas 18 between 7:30 and 10:00pm. Partners for this event include Star Media, Lamborghini Miami and Venue Magazine. For more information: cgonzalez@miabiscayne.com.
Tuesday December 8, 2009 Blackstone and Mindstorm would like to invite professionals and proprietors of Miami nightlife venues and bars to a launch event commencing at 2.00pm through 5:00pm. Mindstorm brings surfaces and spaces to life with a range of innovative, multi-touch and interactive solutions. Now Mindstorm has entered the USA with a new Value Added Partner, Blackstone, and a new reference customer, Mia at Biscayne, in Miami, Florida. The event will serve as a showcase, and tutorial on interactive surfaces, and provide an opportunity to see the most unique, advanced products in action while learning more about how they can increase a venue's revenue and profit. What does this mean? With iPhone like precision and features, and able to detect hundreds of touch points, hanging out at the bar will never be the same. Guests can see how the iBar allows customers to make their own drinks on the interactive surface and enables club owners to up sell and cross sell other products. Currently, customers are seeing margin increases of 20-25%.
Mia at Biscayne also features the Mindstorm Eclipse interactive wall. This is a curved wall, and these unique capabilities have generated television and print coverage for Mia at Biscayne and made the venue a "must see" hotspot in Miami. To view one piece of coverage: http://www.aubreyaquino.com/2009/09/mia-biscayne/. The launch event will feature the following agenda: a firsthand experience of Mia at Biscayne and their benefits from using Mindstorm's interactive surfaces as well as an introduction to Blackstone and their nation-wide sales and service capabilities, a presentation on Mindstorm's newest products (Vortex, Aurora and and Supercell), customer case studies in hospitality, retail and exhibitions/events and finally a demo of new software for self-ordering and "mix your own" drinks. For more information: adurand@blackstoneonline.com
Located in the heart of Downtown Miami, Mia at Biscayne was created as a reflection of the warmth, and diversity Miami represents. A tantalizing blend of color, mixed layout, bold fixtures, and the highest quality of audio visual capability, the venue is a culmination of four unique concepts intricately meshed to comprise one entertainment complex. Lounge, restaurant, sidewalk café and club, this location was created with the guest in mind. During the holidays, Mia will open its doors also featuring special signature cocktails (just for the season) as well as delicious creations by Executive Chef Gerdy Rodriguez. Complete with the highest standard of culinary elements, the menu at Mia was created to reflect all that is Miami, its people and picturesque landscape. When guests dine at Mia they will experience "concept dining" at its best. The location and menu were designed to create a full visual and palate-pleasing experience that will provoke social intimacy and conversation. Mia is where a potpourri of hues, spices, flavors, and cultures meet, as is Miami. http://www.miabiscayne.com.