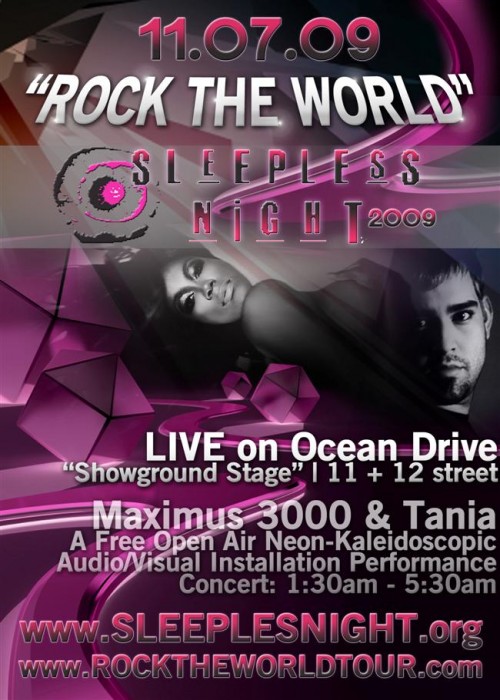 DJ Maximus 3000 & Tania Mashay to Headline Sleepless Night, world renown 24 hour Insomniac Performance/Arts Festival Miami.
Billboard Charting DJ/Producer and Experimental Artist and Singer/Songwriter/Diva Tania Launch their "Rock The World" Global Tour to an expected 100,000+ attendees on a Ocean Drive during Sleepless Night.
Miami Based Record Label Owner (8025 Alliance Music Group) DJ/Producer/Remixer and Experimental Artist Maximus 3000 (aka Alex Ferbeyre) and New York Based Singer/Songwriter/Producer and Performance Diva Tania (aka Tania Mashay) explode on the global art/festival scene by launching their "ROCK THE WORLD" Global Tour during "Sleepless Night" Miami Beach on Ocean Drive's "showground Stage" main stage. The 13 hour Insomniac celebration , highlighting Daylight savings time, during our "Fall Back" period, invites you to live up the 25th hour of the day in a FREE city sanctioned/City wide art walk and live performance experience with 4 zones of entertainment, 150 + installations in 80 different locations throughout Miami Beach North and South.
Joining the global party that is "Sleepless night", Miami Beach Florida USA shows its true colors as a Mecca of Arts and entertainment and a perfect addition to participate on the worldwide stage of this prestigious event. Joining the festivities already involved in this art explosion free and worldwide are: Montreal Canada, Chicago Illinois USA, Riga Latvia, Madrid Spain, Paris France, Brussels Belgium , & Toronto Canada.
DJ Maximus 3000 and Tania were handpicked as one of the few live electronic/Live performance artists installations amongst the 150+ live performance artists/street theatre acts. The concert promises to be a spectacle and high energy experience as none other and a first for a city sanctioned Arts event embracing Electronic music , VJ/Mash-up Culture, on one of its main stages. Also scheduled to perform live throughout the city are alt/indie rock Betty, Drag Artists Adora and Drag it out, Miami freestyle/latin electronic band Le Spam Allstars, New World Symphony, South Florida Jazz Orchestra , Cuban Quarter dance party and a comedy showcase presented by South beach comedy festival/Comdey Central, among many many more.
DJ Maximus 3000 & Tania Perform The "ROCK THE WORLD" Experience taking place following the Miami Symphonic Orchestra's performance and during UK based Dream Engine's "Heliosphere" installation on the "showground stage", Ocean Drive between 11th & 12th street during Miami "Peaktime" club hour 1:30 am – 5:30 am Saturday Night November 7, 2009 going into Sunday Morning.
About the "ROCK THE WORLD" performance:
A kaleidoscope of pop culture presented as a party rock audio/visual showcase. Every Genre of pop and dance music from New wave, Top 40, Rock, hip hop, Electronica, oldies, and dance music Mixed in Key and Mashed up to create a High octane celebration of life. DJ/Producer and experimental Artist Maximus 3000 VJs a barrage of music videos and highly polished ambient textures of CGI on Plasma screens and projections. At the pinacle of the set, Singer/Songwriter/Diva Tania Mashay joins the celebration performing the dynamic duo's collaborative productions of synth-pop and original electronic pieces. All this deliciously topped off by theatrical light up LED costumes in sync with the Music, Audience participation and glow products spread throughout the crowd during this ultimate street party. www.rocktheworldtour.com
More about Sleepless Night MIAMI:
From 6:00 p.m. on Saturday, November 7, 2009, until 7:00 a.m. the next morning, Miami Beach will stay up all night with more than 150 free arts and entertainment events presented at 80 different locations throughout the city. Over 100,000 people of all ages will enjoy free museum admissions, indoor and outdoor art installations and performances, architectural tours, dance (and dancing,) theater, music, slam poetry, film, video, fashion, acrobatics, comedy and more, including several unique collaborations and South Florida and world premieres. The City of Miami Beach collaborates with every cultural institution in the city, and with numerous other organizations, businesses and individuals to ensure that Audi Sleepless Night includes all aspects and points of view of what we collectively call "the arts." Free shuttle buses with onboard arts programming connect the four zones of activity and remote parking for the full 13-hour night. www.sleeplessnight.org