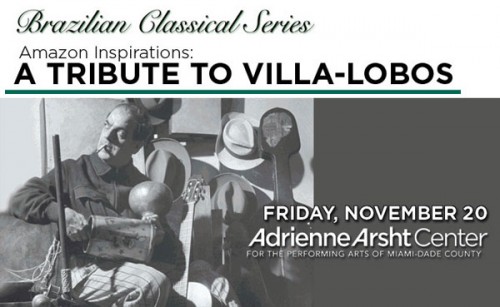 "Nothing is sufficient to revere the memory of Villa-Lobos." – Leonard Bernstein
Vale presents
Brazilian Classical Series: Amazon Inspirations
A Tribute to Villa-Lobos
Friday November 20th, 8 PM
Adrienne Arsht Center Knight Concert Hall, Miami
Tickets on sale through ArshtCenter.org or the box office at 305-949-6722.
Details at BrazilianClassicalSeries.com
Featuring THE MIAMI SYMPHONY ORCHESTRA and guest artists from Brazil:
LUIZ FERNANDO MALHEIRO, guest conductor
EDNA D'OLIVEIRA, soprano
SIMONE LEITÃO, piano
The first Brazilian Classical Series concert will be dedicated to the symphonic music of Heitor Villa-Lobos (1887-1959), in light of his 50th anniversary of passing. In his music, Villa-Lobos describes Brazil in its unique diversity of colors and sounds. Among Brazil's infinite diversity, the Amazon rainforest remained Villa-Lobos' favorite source of inspiration throughout his life.
The program features selections from his last symphonic poem "Forest of the Amazon", the well-known "Bachianas Brasileiras No. 5", both sung by internationally renowned soprano Edna D'Oliveira, as well as the Prelude from "Bachianas Brasileiras No. 4" and "Mômoprecoce", a fantasy for piano and orchestra performed by critically acclaimed pianist Simone Leitão. Joined by The Miami Symphony Orchestra and led by guest conductor Luiz Fernando Malheiro, Artistic Director of the Amazon Philharmonic Orchestra and of the Amazon Opera Festival, both based in city of Manaus, Brazil.
This concert is presented with support from Vale.
Additional support is received Odebrecht and the Consulate General of Brazil in Miami.
Proceeds benefit Neojiba, a youth orchestra and music education social program in the city of Salvador, Bahia.
Project partners include The Miami Symphony Orchestra, Inter-American Culture Development Foundation, Bank of Instruments Project, Brazilian American Chamber of Commerce of FL, Classical South Florida, Miami Piano Circle, Gazeta Brazilian News and The Rhythm Foundation.